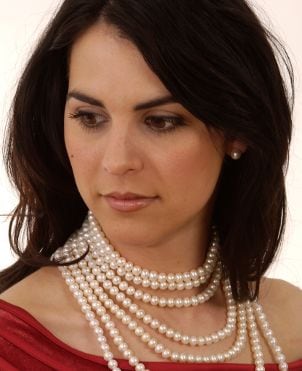 You don't need to have pierced ears to accent your look fashionably; clip earrings are available in many varieties, giving you the option of adding color, kitsch or sparkle to your earlobes. Even if you have pierced ears, you might opt to try out some clip-on earrings simply for style, ease and comfort. Clip-on earrings come in many styles, from traditional studs, hoops and drop fashion earrings to unique and unusual earrings. A wide assortment of cute earrings makes it easy to add sparkle to jeans, suits and dresses.
Clip Earring Styles:

Studs: Stud earrings offer versatility and simplicity, making them a popular fashion jewelry piece. Clip stud earrings are available in simple designs, such as those with a single diamond or pearl, as well as larger, more ornate designs composed of colored gemstones or clusters. Novelty clip-on studs are fun for teenagers and young adults; look for novelty studs shaped like shoes, paw prints and peace signs. For those sensitive to common jewelry metals, shop for hypoallergenic earrings, such as those made from titanium or surgical steel.

Hoops: Hoop earrings can be flirty and sexy or subtle and demure, depending on their size and shape. Clip hoop earrings allow women who do not wear traditional earrings the chance to add this shiny, geometric fashion jewelry style to an outfit. Choose clip hoop earrings made of silver, gold or stainless steel. Many clip-on hoop earrings are decorated with gemstones, giving you even more fashion options.

Drop earrings: Drop or dangle earrings are suitable for any occasion and come in a variety of styles, from dramatic chandelier selections to simple single stones or pearls hanging from gold or silver. Drop clip-on earrings complement virtually any wardrobe option and are comfortable to wear.

Beaded earrings: Beaded earrings are very unique, especially when they are made by hand or incorporate unusual beads and stones. Bead clip-on earrings are fun to wear with any casual ensemble, especially during the spring and summer. Try a pair of beaded clip-on earrings to add free-spirited accessorizing to your style.

Buy Clip-on Earrings
Back to Guides Directory