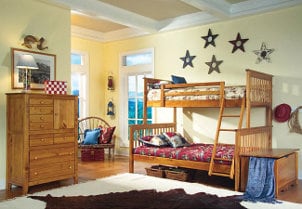 In your children's room, kids' beds will quickly become the focal point. Considering your child will probably have their bed for years to come, don't just choose any old ratty bed you inherited. Kids' beds come in a variety of styles and sizes to choose from. And when it comes to kids' furniture, their bed will probably undergo the most use. Since your child will probably spend a huge amount of time sleeping in or playing on their bed, why not choose a kids' bed they'll be happy to have in their room over the course of many years. Before you make your decision, here are some of the best beds for kids for you to choose from.
Kids' Bed Styles:

Bunk beds: Especially if your children share a room, bunk beds are an excellent option. Bunk beds for kids are generally two twin beds stacked on top of each other, with a ladder to help access the top mattress. Bunk beds are fun, and they allow the bedroom to have more space than having two beds taking up precious floor space. If you want a fun, easy and space-saving option for a child's bedroom, kids' bunk beds might be your best choice.

Loft beds: With the popularity of bunk beds, loft beds throw a twist into the formula. A loft bed looks like a bunk bed, but without the bottom mattress. In the place of the bottom mattress, you can put a desk, toy chest or other pieces of kids' furniture. The mattress is in the top bunk area, with a ladder that accesses the top. If you want kids' beds that save space but only have one child in the room, a loft bed is the way to go.

Storage beds: Often storage beds are designed with several drawers built right into the platform bed frame. In fact, some have enough storage to completely replace a dresser, saving a bunch of space. Plus, kids love the way they can fit anything they want right in the storage areas inside their own kids' bed. Others just have small areas where kids can store some of their small toys.

Buy Kids' Bed
Back to Guides Directory