Best Styles for Cal King Quilts
by Staff Writer

Due to their immense size, it's difficult to keep your eyes off of California king quilts, or as they're also known, Cal king quilts. Because they're such eye-catchers, aesthetic values are crucial to these giant quilts. Cal king quilts are made in a huge variety of styles, so finding the right one for your home decor is easy when you take the time to browse some styles. Take a look at the article below to learn about some of the best styles for Cal king quilts.
Best Cal King Quilt Styles: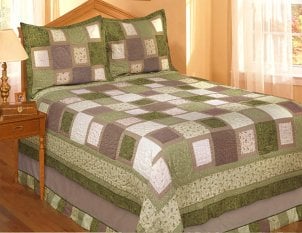 Shop Quilts ▸
Antique:

Antique quilts of all sizes are some of the most popular bedding available. Cal king quilts in the antique style evoke a classic sense of charm and fashion. Antique Cal king quilts often feature intricate designs, such as ornate floral patterns. This style of Cal king quilts most often features detailed stitching and beautiful, subtle color combinations.

Amish:

Should you want to add a bit of homespun charm to your bedroom, Amish quilts may be what you're looking for. Amish Cal king quilts often feature handmade, geometric designs that hold an aesthetic appeal that's hard to match.

Contemporary:

If your bedroom follows a modern design scheme, think about a contemporary Cal king quilt. These en vogue jumbo quilts combine the latest styles with bold, stark color schemes and unique stitching. Contemporary Cal king quilts are also terrific for bedrooms with design schemes that are beginning to feel a bit stale. Try adding one to a traditional bed for a stylish contrast that will make your bedroom shine.

Patchwork:

Patchwork quilts are easily the most ubiquitous type of quilt, and they look great spread out on California king beds. The size of Cal king quilts allows the interesting patterns and stitching of the patchwork style to really shine.

Rag:

Rag quilts are one of the hottest trends in bedding. These quilts are constructed from material that breaks down and softens after repeated washings, such as denim. Rag Cal king quilts are excellent if you're looking to dramatically increase style and comfort in your bedroom.