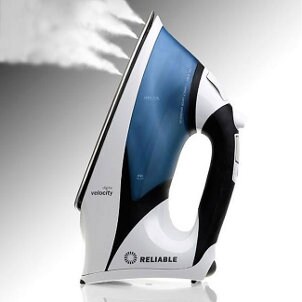 Ironing seams and hems before sewing is an essential step in achieving a polished final product. It is also recommended that you iron fabric before cutting, and it always helps to iron squares before assembling a quilt. A professional steam iron makes all ironing projects easier and can give you fabulous results on sewing projects. Here is a list of features and styles to look for when shopping for pressing irons to be used specifically on sewing projects.
Recommended Steam Irons:

Digital steam irons: Different fabrics require different heat settings. Some steam irons have a digital display, which is much more accurate than a knob or dial. Like a digital home thermostat, digital steam irons can be programmed to reflect the precise level of heat needed for your sewing project, and most have an easy-to-use temperature guide..

Cordless steam irons: Cords may not get in the way when you are ironing a simple shirt, but sewing projects often require much more precise pressing. Cordless steam irons are charged and then unplugged, leaving the iron unfettered.

Steam irons with automatic shut-off: When you are working on a very involved sewing project, it is easy to get distracted. Pressing irons with automatic shut-off will power down after being on for a certain amount of time. Some pressing irons can be programmed with your preferred time limit.

Open-handle steam irons: Many sewing projects require extremely precise ironing. Open-handle pressing irons give you more leverage, allowing your work to be more precise without extra effort. Cordless open-handle steam irons move freely, which is essential on complicated ironing projects.

Steam presses: If you have many ironing projects to complete at a time or if you must iron large pieces of fabric when sewing, consider investing in a steam press. Steam presses are small tables with a large iron surface on top and an ironing board on the bottom. To iron, simply place the fabric on the ironing board and pull the lever to bring the whole iron down to touch the fabric. In one swift motion, steam presses can iron the entire length of a hem or smooth out one large piece of fabric.

Buy Pressing Irons
Back to Guides Directory