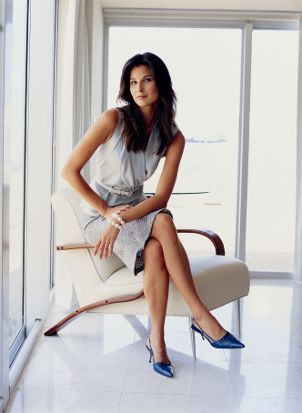 It is important to find a comfortable skirt to wear to the office that is appropriate yet stylish. Skirts are a staple of any wardrobe; they are also one of the most versatile pieces of clothing and can be worn with sweaters, blouses or jackets. Depending on your office dress code, conservative or casual styles may be appropriate, so choose styles and colors that fit into your existing wardrobe.

Wear long skirts for cooler weather. While the most popular women's skirts are hemmed around the knee, cold winter months are a great time to wear longer skirts. Formal long skirts, especially those made of silk or velvet fabric, are probably out of place in the office. Stick to cotton, twill or even wool fabrics for a professional look. Ruffles and pleats can also give long skirts a feminine touch. A-line skirts are the best shape for most women because they create a waistline and widen at the hem, balancing out larger hips.

Select flattering skirt sets. To ensure your skirt looks as professional as possible for the office, find a skirt set with an accompanying jacket. You can pair the skirt set with any type blouse, including silk, cotton or polyester. For a clean look, wear a skirt and jacket with a blouse that easily tucks in and does not create a bulge or pull around the skirt waist. You can also pair women's skirts with separate jackets if you want to mix up the wardrobe.

Choose a slimming pencil skirt. One of the most common and fashionable skirts to wear is the pencil skirt. It pairs nicely with a variety of blouses, sweaters and jackets, making it a versatile part of the wardrobe. The pencil skirt is flattering to all body types, from very thin to curvaceous women. The skirt's silhouette is straight at the waist and narrows at the knees, allowing it to hug all of the curves of the body. Look for a pencil skirt that has a slit or pleat in the back near the hem to allow for increased movement while walking.

Find an appropriate casual skirt. Casual skirts can be professional and dressy enough to wear to work. For the office, look for skirts made of cotton, khaki material, linen or even wool to provide a comfortable option. Keep casual skirts mid-length, allowing them to fall either slightly above or below the knee cap.

View All Skirts
Back to Guides Directory