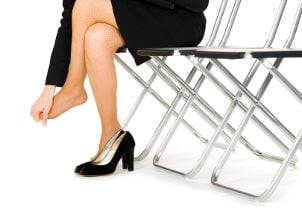 You've probably worn a pair of ill-fitting shoes all day and come home to find that your feet and especially your heels are aching. Unfortunately, when your feet hurt, your back often hurts, making walking or other activities very painful. You do not need to live in agony, however, because the proper shoes can help alleviate the pain. The best shoes for heel pain contain a number of different features that help alleviate the discomfort.
Helping Heel Pain:

Look for arch support. Adequate arch support is a major factor when choosing shoes that help alleviate heel pain. Shoes with an anatomically correct foot bed and a fully cushioned arch will help. Make sure the arch support is high or low enough to properly support your foot, or look for arch support that conforms to your individual foot shape.

Pay attention to the heel area. The shoes should be well cushioned in the heel area and padded throughout the rest of the foot bed. Look for shoes that may offer a gel insole or other type of shock absorption in that area. A slightly elevated heel area can also be helpful to alleviate pain caused by too much stress and abuse on that area. Also, make sure that the fabric against the heel is durable and will not chafe your skin or wear out easily.

Consider the shoe's alignment. A habitually abnormal walk can also lead to heel pain. Feet can be turned slightly inward or outward or not be properly aligned in other ways. Some shoes are specifically designed to keep feet pointing straight ahead, while others help achieve proper alignment through a supportive outer shell and foot bed. If you can't find a shoe with a corrective alignment, have a close friend watch the way you walk and identify any problems. You may not even realize that you walk with your feet slightly turned inward.

Find the sole. Shoes that help alleviate heel pain will have a sole made of a shock-absorbing material. Rubber, latex, crepe or even a supple leather are ideal choices. Make sure that the sole is durable and not too flat or too cushioned, however, because the heel must still be supported.

Check for extra features. There are other parts of the shoe that can help alleviate heel pain. Some shoes may offer removable insoles. Other insoles may be constructed of a type of memory foam that conforms to and remembers your foot's individual shape or may offer built-in orthotics.

Buy Women's Shoes
Back to Guides Directory