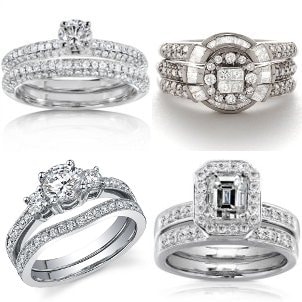 The custom of wearing bridal rings is steeped in history. It's no wonder that the tradition lives on when you see the wide variety of baubles available in wedding rings. Bridal sets remain popular for their stunning styles and straightforward wearing. When purchasing a bridal set, you get at least two rings in one design. One ring is meant to be the engagement ring and one ring is meant to be a wedding band. Some bridal ring sets include an extra band for even more sparkle and style. Classic settings are available in bridal rings, as are more unique options. Consider these favorites when shopping for wedding jewelry.
Bridal Ring Settings:

Solitaire: Solitaire settings are the standard in engagement rings. You don't have to miss out on this classic style because you are choosing a wedding ring set. Many designer bridal rings feature elegant solitaire settings. Round-brilliant diamonds and princess-cut diamonds both look cool and modern in solitaire settings. Many solitaire bridal rings have an overlapping design, which allows the wedding band to slide beneath the solitaire setting. This design is a good choice for bridal ring sets featuring an engagement ring with a large solitaire stone.

Three-stone: Similar to solitaire rings, three-stone bridal jewelry features three stunning diamonds. Sometimes the center diamond is larger than the two side stones and sometimes all three diamonds are the same size. These rings give you three times the sparkle of traditional solitaire bridal rings. If the bridal set includes a diamond-covered wedding band, you'll practically blind everyone with the pile of bright and luxurious diamonds.

Cluster: Cluster settings are very popular. Cluster bridal sets are stunning, but they are generally more affordable than solitaire bridal rings because they feature several small stones instead of one large gem. Cluster bridal rings are not short on brilliance, however. Designer cluster engagement rings will wow you with swirls and patterns made of a handful of small diamonds and gemstones. Cluster engagement rings also give you more variety than traditional solitaire or three-stone bridal sets because the diamonds can be arranged in any design. Some cluster bridal rings feature white and colored diamonds or a smattering of precious gemstones in one design.

Buy Bridal Sets
Back to Guides Directory