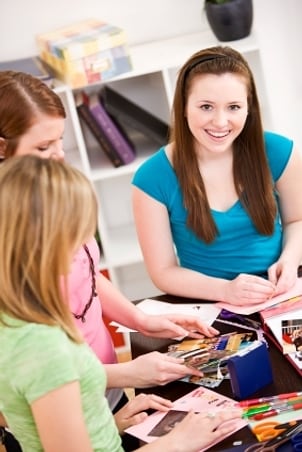 Scrapbooking combines lots of different elements, so having the best adhesives and tapes for each thing that needs to be adhered to a page makes a world of difference. For example, you wouldn't want to use liquid glue on photos as it can cause discoloration and warping; by the same token, you wouldn't use a glue gun where a glue dot would do a better job. If you're new to the world of scrapbooking or need to refresh your memory of these essential scrapbooking supplies, keep reading to learn about the best scrapbooking adhesives and tapes.
Scrapbooking Adhesives:

Glue dots: Glue dots are handy little adhesives that are perfect for gluing really small things to your scrapbook layout. Glue dots are pre-formed dots of dried glue that have a strong bond; use glue dots for the really small stuff, like die cuts, beads, buttons or charms.

Glue sticks: If you thought glue sticks were only for school projects, think again. This adhesive is extremely cost effective; glue sticks almost always come in packs of at least four and spread a thin, even layer of glue over the page. Glue sticks are best for gluing paper, cardstock, die cuts and photos.

Glue gun: A hot glue gun is an essential component in your box of scrapbooking supplies. A glue gun offers you exact adhesive application and a very strong bond. Glue guns work great for fabrics, large charms and other heavy layout decorations.

Spray adhesive: Aerosol glue or spray adhesive is the only adhesive that is transparent, making it ideal for gluing scrapbook elements that are also transparent, such as transparencies, vellum or acrylic. Always use spray adhesive in a well-ventilated area to avoid breathing the fumes. Look for spray adhesives that are acid-free or archive-safe and that won't leave a residue.

Tape runner: Glue isn't always the best adhesive for scrapbooking. Sometimes you need a tape runner or dispenser and trusty double-sided tape. A tape runner releases a thin strip of double-sided tape, usually 1/4 to 1/2-inch thick, to help you adhere photos, decals and even whole layouts to the page. Tape runners are one of the best scrapbooking adhesives because they are easy to use and don't make much of a mess.

Mounting squares: A trusty way to attach a photo is with mounting squares. With old photos, you may be hesitant to use glue sticks or spray adhesives, which are very strong and generally permanent. Most mounting squares can be removed in the event that the layout didn't turn out as planned, and they're gentler on your photos than other adhesives. Look for decorative mounting squares that photos can be tucked into for an even gentler method of attaching photos.

Staples, brads and eyelets: For certain scrapbooking layouts and decorations, glue and tape don't work at all. Tiny staples, decorative brads and pretty eyelets are the solution when you need to attach things like fibers, fabrics and other hard-to-glue items.

Buy Scrapbooking
Back to Guides Directory