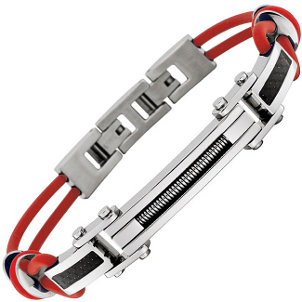 A cool bracelet can be an integral part of your wardrobe. If you love it and it goes with everything, you'll wear your bracelet almost every day. Rubber bracelets are quickly becoming a favorite among hip jewelry lovers. Cool rubber bracelets are neutral but eye-catching, and they can be layered with other pieces of jewelry to create texture. Many different types of rubber jewelry exist to give you a variety of options when shopping for the perfect piece. Consider these styles to jumpstart your collection.
Best Rubber Bracelets:

Rubber and stainless steel: Stainless steel mixes well with almost any other material, and rubber is a favorite. The bracelets may have rubber links alternating with steel links. These texturally rich bracelets are both uptown and downtown. Black rubber is especially popular in rubber jewelry, but many other colors are available, including orange, brown and blue.

Charm bracelets: Charm bracelets don't have to be boring; a rubber charm bracelet is unique and urbane. You have many options when creating a rubber charm bracelet. Some rubber bracelets have links that will hold clip-on charms. Other rubber bracelets will require spacer beads to keep the charms in place. Be creative when making your own rubber charm bracelets.

Handcuffs: Handcuff bracelets are very trendy, and rubber gives these bracelets an extra edge. Many handcuff bracelets mix plastic, steel and rubber to create textural variety. Wear one of these boundary-pushing pieces with your favorite jeans and T-shirt combo or dress down something formal. A rubber handcuff bracelet can easily become your favorite piece.

Personalized: Rubber bracelets were first made popular by organizations looking to advertise their cause. These bracelets are still trendy, but personalizing your rubber bracelet is even more fashionable. Having your name, one of your personality traits or your favorite saying added to a rubber bracelet will make the jewelry unique. These bracelets can be found in a variety of colors and sizes. Choose black, white or silver to match a neutral wardrobe or indulge in bright blue, green, orange, red, yellow or pink.

Watches: Rubber watches are very trendy at the moment, and these durable timepieces will outlast most watches in your collection. Choose from sport watches with rubber watchbands and fashion watches with watchbands made of rubber, but woven like metal.

Buy Bracelets
Back to Guides Directory