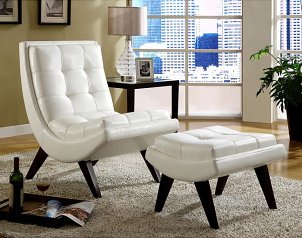 Adding a few leather chairs to any room instantly introduces an aura of sophistication and comfort. For thousands of years, leather has been used for furniture and other dependable items because it is both durable and attractive. Although you can't go wrong with quality leather chairs in any room, some rooms in your home shouldn't go without one or two.
Best Rooms for Leather Chairs:

Living room: No living room is complete without a few leather chairs to accent the rest of your living room furniture. When you get down to it, the function of a living room is to provide a sitting space for family and friends to gather. If there is any room in your home to create the warm, comfortable and cultivated atmosphere leather chairs can provide, the living room is it. Get some leather chairs that can match or accent your couches and other furniture. A leather chair is great in a living room with extra corners too big to leave empty but too small to fit a recliner.

Family room: When you are kicking back to watch the big game or settling in for a movie, few items are as comfortable as an upholstered leather chair. Leather arm chairs in your living room offer a great way to provide the comfort the room requires, yet they maintain a classic style. Don't save your style for the living room; share it with the rest of the house with leather chairs.

Dining room: Considering how much time families spend around the dining room table, it's a wonder that so many sit day after day in hard, uncomfortable chairs. Why not replace those unwelcoming chairs with comfortable, stylish leather dining chairs? Your body will thank you and so will your dining room.

Bedroom: Most people fill their bedrooms with only the essential items: a bed, a dresser, sometimes some nightstands. But who said you can't enjoy the comfort of a leather chair in your bedroom? Place a leather chair or two in the corner of your room to sit in while you are reading a book. If you have a desk in your room, don't settle with an uncomfortable chair, pick out a perfect leather office chair. Leather chairs will add that final touch to make your bedroom somewhere you like to stay, not just a place you go to sleep.

Buy Leather Chairs
Back to Guides Directory