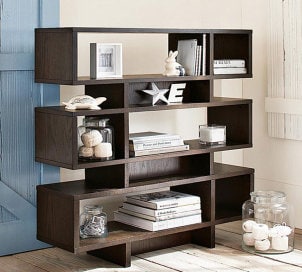 No matter what you have to display or store, shelves are a valuable part of just about any room in your home. Although they are most popular as office furnishings, shelves can be used throughout your home for a number of different things. Instead of just holing up in your home office, why not use shelves in some of your other rooms? Besides organization, shelves make great display pieces. Depending on what type of material you prefer, you can find shelving to match just about any decor imaginable. If you are considering shelves, here are some great ideas on how you can share shelves with the rest of your house.
Rooms to Furnish with Shelves:

Living room: The living room is a perfect place for book shelves. Instead of packing them full of books, consider decorating with some vases, photos and original artwork. Shelving adds a sophisticated atmosphere to your living room and allows a handy space to display some of your favorite items. If you are determined to put books on your bookshelf, try some aged-looking leather-bound books.

Bathroom: Bathroom shelves are a great place to display pictures and other small decorations. Don't let your bathroom become just a utility room. Beautifying your bathroom with wall-mounted shelves can help make it a room people don't mind being in for a minute or two.

Bedroom: If you have things lying all over your room, some quality shelves might be exactly what you need. Try some storage shelves if you need a place for a good deal of items. Wall shelves are also a perfect way to display collector's items. If you don't have a lot of space in your bedroom, pick up a few corner shelves to utilize the unused portions of your room. Not only will your room be more organized; you'll love the way your new shelves tie it together.

Family room: Whether you need a place to store books, DVDs or just decorations, the family room is a great place for shelving. Since the family room is one of the most flexible rooms in your home, you'll want shelving that is equally flexible. Whether you need floating shelves, wire shelving, glass shelves, shelf brackets, metal shelves or even closet shelves, you shouldn't have too much trouble finding the perfect type for you.

Buy Book and Show Cases
Back to Guides Directory