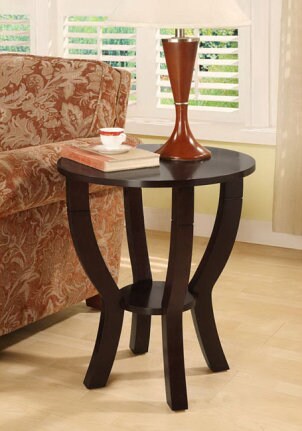 Any living room can be granted that finishing touch simply by adding a side table to two. Placing a side table against one end of a couch or between the two ends of your living room sofas can quickly tie together your home furniture. However, end tables aren't just a living room accessory; they can help enrich your entire home. Next time you shop for end tables, don't just stop at the living room. There are many other places in your home for end tables. Here are some ideas to get you started on a full-out end table assault on your house.
Decorating with Side Tables:

Living room: The living room can't be ignored as the premier room for side tables. Try some end tables at the sides of your couches. If you still haven't had enough, place a round end table toward the center of the room for drinks, decorations and reading materials.

Family room: Side tables work just as well for the sofas and armchairs in your family room as the ones in your living room. In addition to the standard side tables, make sure you have coffee tables for your family room. Also, the family room is a great place to get coasters to protect your assorted end tables from drinks.

Hallway: The hallway might not come immediately to mind, but it can be a great place for an end table. If you have a wide hallway, find a tall, long side table to act as a sofa table. Place a few decorations on it, and it can add some class to your hallway.

Bedroom: Instead of some bedside cabinets, place a console table on each side of your bed. It's quite a bit simpler than a night stand and will give you a surface for your glasses, alarm clock or favorite book.

Bathroom: If you have a large enough bathroom, get a glass accent table to place against the wall or in the corner. Accent tables will help grant the bathroom a sleek atmosphere. Plus, you can use it to hold reading materials or any other bathroom items you don't want cluttering the countertop or the drawers.

Buy Coffee, Sofa and End Tables
Back to Guides Directory