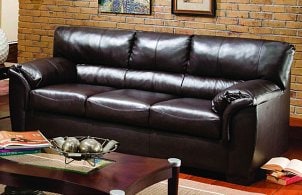 Sinking into the comfortable cushions of a leather couch is an experience not soon forgotten. Once you place a leather couch in your room, it won't take long for it to become the favorite seat in the home among family and friends. Whether guests gather on your new leather sofa for a good talk or you curl up on the soft cushions of your leather sectional sofa after a long day's work, you'll be glad you've furnished your home with leather furniture fit for a queen or king. Although a leather couch can pretty much fit into any room in your home, here are a few places they will be especially appreciated.
Decorating with Leather Couches:

Living room: Of course, the living room is the most popular room in the home to furnish with leather furniture. A leather sofa pushed up near a fireplace creates a warm atmosphere you will love. Amplify your decor by pushing a leather chair with a matching leather ottoman into the corner opposite your new leather couch

Family room: When it's time to furnish your living room with some chic leather furniture, consider leather sectional sofas. When you need enough comfortable seats to fit a large number of people into your family room to watch the big game or enjoy a movie night, a leather sectional will certainly fit the bill. Furnish the opposite wall with a leather sofa or leather loveseat or even a leather recliner. After you have added some leather couches to the design mix, the living room will immediately become the most popular gathering place in your home for family and friends.

Bar: Sure, your bar is going to need some bar stools and a bar table, but why not add to the comfortable atmosphere with a leather couch before the bar? After sitting at the bar, visitors can relax and kick back in your soft leather couch. You'll suddenly be spending more time in your bar than before. Try to get a leather couch that matches the upholstery on your bar stools to tie the room together. If your bar is too small for a full sofa, consider a few leather chairs.

Buy Leather Sofas and Loveseats
Back to Guides Directory