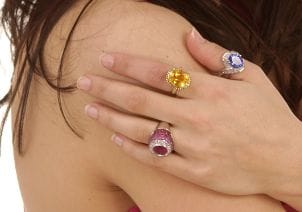 You don't have to wait for cocktail hour to sport a fabulous cocktail ring, though it never hurts to wear a stunning ring to an elegant party. A cocktail ring should make a statement with bright gems, ornate patterns and oversized settings. Cocktail rings are very trendy in fashion jewelry right now, and they can be worn to work, school and out on the town. Spruce up your jewelry collection with a fun and dramatic cocktail ring. Choose from these popular ring setting styles.
Cocktail Ring Setting Styles:

Cluster: Cluster ring settings are arguably the most popular in cocktail ring collections. Cluster settings feature gems in ornate clusters, which makes the jewelry very dramatic and eye-catching. Cluster settings also offer a range of design options, so you have many rings to choose from while shopping. Look for cluster cocktail rings that feature multi-colored patters of vibrant gemstones.

Prong: Prong settings are most popular setting for solitaire rings. Prong settings hold the gemstone above the band, allowing light to pass through the diamond, emerald, sapphire or citrine. Consider colored stones and fancy diamonds when shopping for prong cocktail rings to avoid looking as though you are wearing an engagement ring.

Bezel: Bezel settings hold the stone securely onto the band with a ring of metal. The metal ring adds to the decoration of the jewelry. Bezel-set cocktail rings have a well-traveled look about them, sporting elusive international style. Bezel ring settings appear very opulent and luxurious, but you don't have to spend a fortune on all bezel cocktail rings. Look for bezel-set cocktail rings featuring colorful cubic zirconias if you are on a budget. Cubic zirconia cocktail rings are so affordable that you can collect one in every color and style.

Channel: Channel settings are most often found on wedding bands. Channel-set diamonds sit side-by-side in a row, nestled inside the setting. Cocktail rings rarely feature channel settings as the main design, but many use channel settings to accent the ring with even more sparkle. Channel-set accent stones may encircle a larger bezel-set or prong-set gem or decorate the front or sides of the band.

Buy Cocktail Rings
Back to Guides Directory