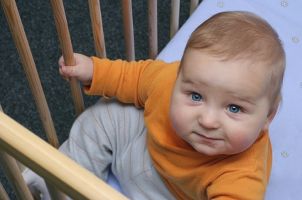 When shopping for baby gear, consider putting a playard on top of your list. Playards, also sometimes referred to as playpens, function as cribs, changing stations and safe, enclosed play areas. Purchasing a portable baby playard can save money and space while giving you a versatile piece of baby furniture for travel and activities with baby. Some of the best reasons to use baby playards include value, versatility and portability. Today's playards are not like the playpens your mother used; these handy pieces of baby gear perform a myriad of functions and go anywhere.
Why Use Playards?

Nap time: Baby playards are handy substitutes for bassinets and cribs. This practical piece of baby furniture often has a removable full-sized bassinet that attaches above the playard. Bassinets are perfect for young babies and can let you keep your little one nearby during naps and at night. Most playards also have a nice, comfortable mattress. Older babies who exceed the weight limit for the removable bassinet can sleep on the playard mattress. Taking a playard on trips and to grandma's house gives your baby a comfortable and safe place to sleep day and night.

Play time:Playards are great, safe places for babies to play with their toys and books. Your baby can experience a sense of independence and freedom with some personal playtime in his portable playard. Playards are wonderful for using outdoors or in rooms of the house that are not baby-proofed, such as basements and laundry rooms.

Changing station: Most baby playards come with a removable diaper changing station that attaches to the top of the unit. This easy-to-wipe surface is ideal for changing diapers and quickly swapping your little one's outfit. Some playards feature storage on the sides for diapers, wipes and other essential items.
Baby Playard Warning:

Even the highest quality playard is not a substitute for attentive parenting. Do not leave your child unattended in her playard for long periods of time or assume that her safety is guaranteed. Use your baby's playard as part of your parenting routine to increase your child's safety.

Buy Playards
Back to Guides Directory