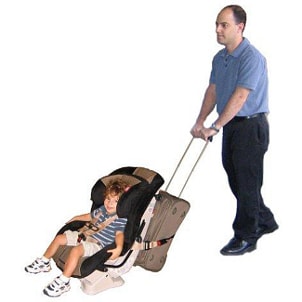 The arrival of a new baby means lots of new gear, and new gear means you have some choices to make. Baby car seats can be configured with or without a base; knowing the best reasons to use a car seat base will help you choose the car seat and base that are right for you and your growing family.
Using a Car Seat Base:

Car seats with bases are versatile. Anyone with an infant knows that easier is better. Car seats with bases can be easily moved from car to car or car to stroller and back again. Simply detach the car seat from the base and snap it into the waiting base wherever you need it. You can have a base in each of your cars and even one in grandma's so visiting is easier than ever.

Car seat bases let you use the car seat longer. Many car seats that come with bases are designed to transform from an infant car seat (rear facing) to a toddler car seat (front facing). Once your child reaches the age and/or weight limit for the change, the base can be rotated and secured so the car seat faces the front instead of the back of the car.

Car seats with removable bases are less disruptive. Everyone hates to wake a sleeping baby, moms and tykes alike. With a detachable base, you can lift your sleeping baby out of the car with less hassle and less chance of interrupting a much-needed nap.

Car seats are lighter when detached from the base. Car seats can be heavy, especially with a baby tucked inside. Pair that with a diaper bag and purse and you have your hands full! Lighten the load as much as possible by removing the car seat from the base; now your load is not only lighter, but also smaller and easier to maneuver.

Buy Car Seats
Back to Guides Directory