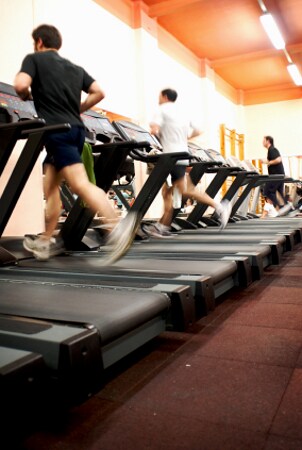 Running is one of the best fitness exercises you can do. But while there are lots of obstacles and excuses that get in the way of a running routine, treadmills eliminate a lot of those problems. Treadmill running is convenient, safe and effective. Running on a treadmill helps you keep in shape during the winter and can be a great way to get started as a runner.
Training on a Treadmill:

Treadmills are easier on your body. The type of surface you run on has a dramatic impact on your body. Hard surfaces like concrete and asphalt transfer a lot of force to your feet and knees. The softer surface of a treadmill absorbs much of the impact, allowing you to do longer, more frequent runs with less chance of injury.

Treadmills help control your pace. Tempo runs and easy, recovery runs are just as important as long runs and speed training. But maintaining a pace can be difficult, especially for beginning runners. A treadmill can control your pace so you don't have to worry about running too slow or too fast.

You don't have to worry about weather. One of the best advantages of treadmill training is that the weather is always the same. You never have to worry about the cold or heat that can ruin your performance. You also don't have to worry about slippery roads in the rain and snow. And not only will running on a treadmill keep you in a comfortable environment; it eliminates the causes of cancelled runs that can interfere in your routine.

Treadmills fit your schedule. With a treadmill you don't have to worry about running at night or running during rush hour, both of which can be dangerous times to run. And when you're running on a treadmill, you can stop anytime, so it is more likely that you'll squeeze a run in when you are short on time. You can also enjoy a treadmill run while still keeping an eye on your kids.

Treadmills let you breath clean air in the city. Running along the road can expose you to high amounts of carbon monoxide from cars. This pollution can have damaging effects on your performance and your health, especially since you are taking deep breaths while running. Treadmills keep you breathing clean air, despite how much traffic there is out on the road.

You can run in privacy. With a treadmill, you don't have to worry about anyone judging your performance. You can run or walk at your own pace and stop anytime you want. Of course, with two treadmills, you have the option of running together with a friend or partner, even if the two of you run at different paces.
Treadmill Training Tip:

If you are going to be running a long race like a marathon or half-marathon, be sure to run on the road, as well as your treadmill. Treadmill running will improve your physical fitness just as well as running on a hard surface, but treadmill workouts won't prepare you for the pounding your body will take from running many miles on a hard surface.

Buy Treadmills
Back to Guides Directory