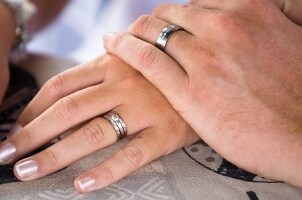 Tungsten is gaining popularity in the jewelry world for its sleek appearance and durability. Tungsten is especially sought after by individuals looking for a modern wedding band. Tungsten wedding bands are a common choice among grooms, but women's tungsten wedding bands offer a unique choice for women who want a ring that is contemporary and eye-catching. Tungsten rings come in many styles to suit a variety of tastes so you don't have to sacrifice style. Use our tips and information to decide if a tungsten wedding band is right for you.
Buying Women's Tungsten Wedding Bands:

You never have to take it off. Tungsten rings are among some of the most durable jewelry available. If you want a women's ring that you can wear while swimming, golfing, cleaning, surfing and camping, then consider women's tungsten wedding bands. Tungsten bands won't rust or oxidize like other women's rings, and you can clean them easily with a solution of mild soap and hot water. When you choose a wedding band, remember how much you'll want to leave it on in any situation and consider tungsten bands for their durability.

You won't have to worry about it so much. Any woman who has accidentally misplaced a large diamond wedding ring knows that this situation can be very stressful. Although losing any ring that has sentimental value can be upsetting, losing one that wasn't as expensive won't be quite so much of a hardship.

You can choose a unique color. Platinum and white gold offer a popular silver hue, and yellow gold is shiny and traditional, but tungsten rings can be had in a much wider range of colors. A black tungsten wedding band is very modern and neutral, while a red tungsten wedding ring is incredibly unique. If you love the color of gold, look for a gold-plated tungsten ring. Shop for tungsten bands to choose an exceptional color that represents your personality and relationship.

You have many design possibilities. Most wedding bands made of platinum, gold and silver offer the same basic design. Tungsten wedding bands offer a much wider range of styles to let you express yourself through your wedding jewelry. Women's tungsten wedding bands are often laser-engraved or etched to create interesting patterns and meaningful designs. You can even choose tungsten rings set with diamonds. Consider a tungsten wedding band that will represent your personality, belief system or culture.

Your wedding band won't be average. Many married woman have similar wedding bands. If you consider your relationship to be unique, consider a wedding band that won't blend in. Tungsten wedding bands are eye-catching and matchless, giving you the ability to stand out and tell the world how important your marriage is to you.

Buy Tungsten Rings
Back to Guides Directory