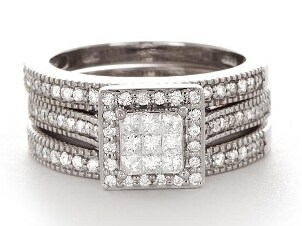 The modern bride has many options when shopping for wedding rings. Among those options is the 3-band wedding ring. Stylish 3-band wedding rings allow you to indulge in three gorgeous sparkling rings. Luxurious 3-band rings are most commonly found in bridal sets because most are made to fit together in one stunning jewelry showpiece. If you're considering a 3-band ring for yourself or for your bride, then use these tips to narrow down your choices in bridal sets.
Features of 3-band Wedding Rings:

Surprise and spoil your bride: If you want to impress your girlfriend with a surprise proposal, then shop for 3-band wedding rings. Bridal sets featuring three separate diamond rings will help you craft a fabulous wedding ring for someone special. Surprise her with the luxurious band featuring a stunning diamond solitaire when you propose. On your wedding day, she will be thrilled to see the wedding band portion fits perfectly with her beloved engagement ring. On your first anniversary, wow her with the final piece. Any woman would be thrilled with these three fabulous jewelry gifts.

Wear your wedding ring every day: It's not easy for every woman to wear a bulky engagement ring and wedding band on a daily basis. Women who work in the health-care field or who work with their hands may prefer to wear just a wedding band on a regular basis and save their engagement ring for special occasions. Functional three-band wedding rings allow you to wear one, two or three pieces at once. You won't have to sacrifice the luxury of wearing wedding jewelry when you have this option.

Indulge in multiple styles: A bridal set is an investment piece, but that doesn't mean that you have to limit your style options. Today, you might love the look of the traditional wedding jewelry set, but in a few years, you might prefer something more contemporary. When you own a 3-piece wedding band, you can easily change out the style as often as you like. Wear the two simple bands with a colorful center eternity band or layer one band with a fashionable cocktail ring.

Buy Bridal Sets
Back to Guides Directory