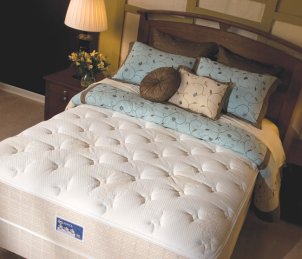 Serta mattresses are a top-selling brand for a reason. If you're looking for quality, durability, and comfort, consider investing in a Serta. Their slogan is "We Make the World's Best Mattresses," and it's hard to argue with that statement. With a Serta mattress, you're getting the promise of a great night's sleep from a leader in the mattress industry. Here are the best reasons to own a Serta mattress.
Why Buy a Serta:

Comfort: Your sleep depends on your mattress being as comfortable as possible. That's why purchasing a Serta mattress is such a smart choice. They are specifically designed for your ultimate comfort. In fact, the Serta Perfect Sleeper® is the Official Mattress of the National Sleep Foundation; it was designed with their input with the goal of helping everyone get the most relaxing sleep they can, every night.

Trust: Since 1933, Serta has built its business by earning the trust of its customers. People know that when they purchase a Serta, they are getting a mattress that's worth the price. They have strict guidelines for the products that will bear their name, guaranteeing that each mattress has the quality you expect from a Serta. They are also the most trusted mattresses in the hospitality industry; if you slept well at a fine hotel, there is a good chance you were sleeping on a Serta.

Selection: There's a Serta mattress for every sleeper, so finding the right one isn't difficult. Do you want to experience the benefits of memory foam? Consider a memory foam Serta mattress. Feel like an extra-soft boost of comfort for your bed? Think about a pillow-top Serta mattress. With Serta, there are countless options to increase comfort in your bedroom.

Innovation: Serta never takes a rest in its quest to make sure you get yours. They have long been an industry leader; for example, they created the first "tuftless" mattress and the first pillow-top mattress. Today, they continue to innovate with the Advanced Comfort Quilt® system, which helps keep sleepers cool and reduces tossing and turning.

Quality: Serta creates durable, quality mattresses that last, so if you're looking for a durable mattress, think Serta. You'll sleep soundly knowing that you have a comfortable bed to sleep on for years.

Buy Serta Mattresses
Back to Guides Directory