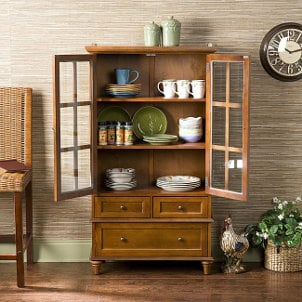 Many people don't know that their kitchen isn't complete without a china cabinet. They think they're finished with their kitchen table and chairs. However, a china cabinet, which is also known as a buffet or sideboard, only enhances the look and function of your dining room or kitchen. If you're still not convinced, keep reading for more of the best reasons to own a china cabinet.
Reasons to Own a China Cabinet:

Decoration and display. China cabinets and buffets are easy to decorate. Just add a bowl of seasonal fruits or a collection of photographs and frames. In addition to storing and exhibiting your precious china, this piece of furniture is ideal for display at parties, family dinners and holidays. A buffet or sideboard gives you an extra kitchen surface that is perfect for holiday and party displays because the surface isn't needed for cooking, so you can decorate it with holiday or themed decorations. A china cabinet full of fine china and other special dishes is also an classic decoration for your dining room.

Protection for your china. This piece of furniture is ideal for protecting your special dishes. Keeping your fragile and expensive china away from high traffic areas will prolong the life of your china. Storing your china dishes in a particular place and only getting them out when you need them will cut the chances of breakage and chips drastically.

Serving from your china cabinet. Most china cabinets and buffets have a serving top, making this piece of furniture perfect for holiday serving. Instead of crowding your dinner table with serving dishes, just set them on your china cabinet or buffet and let your family and guests serve themselves. You'll have more room on the dinner table for decorations to set the mood of the evening. If you're going to have an outdoor party, forget about the hassle of transporting the food back and forth. Set it out on your indoor buffet, let your guests serve themselves and then congregate outside.

Storing your collection. Maybe you don't own any fine china yet. In that case, your china cabinet doesn't have to sit empty in your dining room or kitchen. China cabinets and buffets are perfect for displaying your favorite collection. Perhaps you enjoy collecting old books; a majestic china cabinet would look elegant with a row of first editions. Just because it's called a china cabinet doesn't mean you're limited to putting china in it. It's a display area. Think outside of the box and make your china cabinet the focal point of the room.
Tip from Overstock.com:

Try not to overcrowd your china cabinet or buffet. Overcrowding not only makes your china cabinet look cluttered, it can also increase the risk of some of your fine china falling out when you're digging around for another item. Your fragile china could slip out and break much more easily if the buffet is too full.

Buy Buffets
Back to Guides Directory