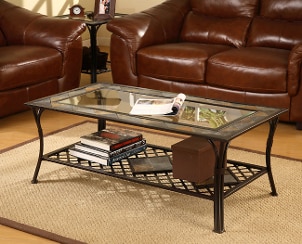 Are you in the market for a glass coffee table? If that's the case, you probably know you have a huge amount of options. There are countless glass coffee tables available in an even larger number of sizes, shapes and styles, so deciding on just one can often be difficult. Don't let the frustration of indecision sway you from your choice, however. You're on the right path, as many glass coffee-table owners will tell you. Take a look below to learn the best reasons to have a glass coffee table.
Buying a Glass Coffee Table:

Style: Naturally, style is one of the key reasons many people decide to place coffee tables made from glass in their homes. These tables provide a distinct and fashionable look that's nearly impossible to beat for pure chic factor. The most stylish coffee tables combine glass with other materials, such as wood, metal or plastic, to create truly eye-pleasing results. Some of the best-selling glass coffee tables are crafted in modern styles. Contemporary coffee tables feature clean lines and minimalist design to give rooms a massive boost of sleek style. These modern tables are usually made from metal and glass, but plastic and wood aren't out of the question. If you want a wooden table with a modern look, consider glass coffee tables with wood frames, stark stains and smooth finishes. Obviously, there are plenty of glass coffee tables in more traditional styles, as well. Elegant, classic coffee tables are generally made of heavy woods with stunning stains and finishes. Other popular styles of coffee tables include rustic and retro.

Durability: It may come as a surprise, but many homeowners love glass coffee tables due to their durability. Glass may seem like a fragile option, but it actually holds up very well to normal coffee-table use. For example, you won't have to be as concerned about setting drinks on your glass as you would with other materials, such as wood. Glass tables are also extraordinarily easy to clean, which can take a load off your mind when you're doing housework. Simply use some glass cleaner and a rag and your coffee table's glass will be sparkling in no time.

Buy Coffee Tables
Back to Guides Directory