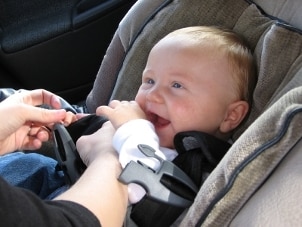 You can choose from a variety of car seats for your baby. Convertible car seats are an excellent choice because you can use them for many years and they allow your child to remain in the safest rear-facing position longer than some traditional car seats. A convertible car seat "grows" with your child, and most baby convertible car seats can be used until your child weighs 40 pounds. Some convertible baby car seats can safely hold children who weigh up to 80 pounds. Baby convertible car seats are a good investment because they generally last longer than traditional car safety seats. An infant car seat that converts into car safety seat for an older baby or child will also waste fewer materials than other types of baby car seats, so they are generally better for the environment. Use our tips to decide if a convertible infant car seat is the right choice for your family.
All about Convertible Car Seats:

Safety: Safety is the most important thing to consider when shopping for baby gear. Convertible seats allow children to rear-face longer, which is the safest position for a baby in a vehicle. Crash tests have shown that rear-facing children are safest in an accident and that rear-facing seats better support an infant's spine. Children should be kept in a rear-facing car seat as long as possible. Traditional infant car seats typically accommodate children up to 20 pounds in the rear-facing position. Convertible car seats can accommodate children up to 80 pounds in the rear-facing position, depending on the brand and style of the car seat. Convertible car seats allow some children to remain in the safe rear-facing position for several years.

Cost: Convertible car seats vary in price, but most car seats that convert are a better investment than traditional car seats because you can use them for many years. If you purchase traditional car seats, you will need to buy at least two separate seats. Convertible car seats will also save you shopping time and effort.

Environmental impact: Convertible car seats last for many years and aren't likely to need to be replaced. All modern car seats are made of plastic. When you buy just one car seat you are reducing waste, manufacturing needs and shipping requirements. While car seats can be donated and passed down to family members, all baby car seats have expiration dates and will eventually be useless for safety reasons.

Buy Convertible Car Seats
Back to Guides Directory