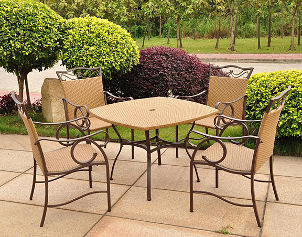 It's easy to update your patio with durable, timeless pieces when you buy wicker patio furniture. Whether you want simple wicker patio chairs for extra seating during an outdoor party or a wicker patio set that includes a table and enough chairs to entertain eight guests, there are many benefits to owning wicker furniture. Read on for the best reasons to choose wicker patio furniture.
Benefits of Wicker Patio Furniture:

Wicker furniture is lightweight. If you frequently pull out extra chairs for guests who visit, you'll love the versatility of wicker outdoor patio furniture. Wicker is lightweight and easy to lift and carry, yet its unique woven design also makes it incredibly sturdy and perfect for guests of all sizes, even children. If you are worried about kids who may tip over your wicker patio chairs while playing, consider weighting them down with thick outdoor cushions; these accessories will also protect your other wicker outdoor patio furniture from damage.

Wicker patio furniture is durable. Wicker outdoor furniture is usually made of rattan, a type of sturdy vine that grows in tropical areas and is known for its strength. However, you can also find wicker furniture sets made of bamboo or reed. Though the natural materials used in this type of patio furniture make it environmentally friendly, wicker furniture sets that don't have a waterproof coating can also deteriorate quickly when exposed to rain or direct sunlight. Look for wicker furniture with aluminum frames for added durability; patio furniture made of resin wicker is also resilient, especially if you live in a climate that receives a lot of moisture.

Wicker patio furniture has a classic design and goes with any style. While the word "wicker" may bring images of white wicker garden furniture to mind, you can actually find this iconic design in cream, tan, brown, black and even olive green shades. Wicker garden furniture can look classic when you add crisp striped cushions to white chairs and benches, but it looks incredibly modern when paired with vivid orange and sage green pillows. Consider the colors and style of your home before purchasing any wicker outdoor furniture. The color of your wicker patio set or garden furniture can either contrast with or complement the exterior of your home, depending on the atmosphere you want in your backyard.

Buy Wicker Patio Furniture
Back to Guides Directory