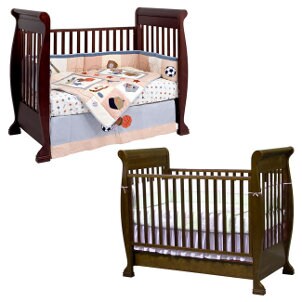 Convertible cribs are great for parents who want to make their baby's bed a worthwhile investment. Convertible cribs offer a quality crib for newborns and infants, then transform into a toddler bed, day bed or adult bed as a child grows. Some convertible cribs will include all of the pieces and hardware necessary to make the conversion. Other convertible cribs might require a consumer to order additional pieces when it is time to convert the crib, but many parents will find that a convertible baby crib saves them time and money either way. Convertible cribs are typically more expensive than non-convertible baby furniture, but there are many reasons to choose them over traditional baby beds.
Choosing a Convertible Crib:

Safety: Convertible cribs, by design, usually do not feature drop-down sides. Many traditional pieces of baby furniture feature a side that can be lowered for easy access to the baby, but cribs with drop-down sides can pose a safety hazard for children and were banned by the U.S. Consumer Product Safety Commission due to a high number of infant deaths. Most convertible baby cribs have all four sides firmly attached, with the option to adjust the mattress to different heights in order for a parent to easily care for the child.

Longevity: Convertible cribs grow with your baby, allowing you to use the same piece of nursery furniture over and over again. When your child is ready to transition into a toddler bed, a convertible crib can convert with a few simple steps. In addition to saving you money, convertible cribs can encourage children to transition into a new bed easily, with the aspect of familiarity. Some convertible baby beds even convert to adult-sized beds with the addition of rails and a new mattress. Convertible cribs can be used for many years, saving you money and time.

Flexibility: Convertible cribs are versatile. Unlike standard cribs, a convertible crib can be used in a variety of rooms and situations. A convertible crib used as nursery furniture for your baby boy can be converted into a daybed for your preschool-aged daughter. If you need a guest bed in a pinch, a convertible crib can easily serve as a twin- or full-size bed for a week or two, and then be returned to the nursery. The horizontal sides of most convertible cribs, with their clean, vertical lines, make classic head and foot boards that will work in any guest room.

Buy Cribs
Back to Guides Directory