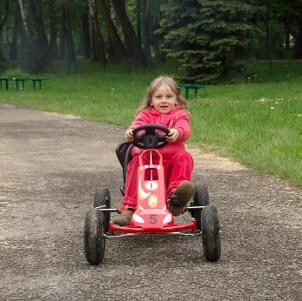 Zipping down the sidewalk or cruising up and down the driveway in a pedal car is a thrill that any child will enjoy. Ride-on toys give kids a chance to play outside in the fresh air as well as satisfy their need for speed -- and since pedal cars are so attractive, they can do it in style. Do you need more reasons to buy a pedal car for you child? Here are a few.
Why Buy a Pedal Car:

Pedal cars build and encourage a child's imagination. Along with a pedal car's ability to physically take your child from point A to point B, it also has the ability to let your child's imagination take over. He's a train engineer riding through the Wild West. She's an adventurer driving across the Serengeti. The games are limitless. The mobility of this toy car adds to play time, so your child's great adventure will last for hours.

They provide an opportunity to exercise. With the move towards high-tech motorized and electric toys, children are getting less exercise while playing with their toys than they used to. These fun mobile cars bring back some of the physical exertion children need every day. If you don't have a long driveway or good sidewalks for you child to ride his or her pedal car on, walk alongside him while he pedals to the nearest park, and then supervise while he takes a few laps around the paths.

It's a hobby you can share. If your children enjoy playing with pedal cars, you can start customizing the toys or even build them their own personalized ride-on cars. If your children really grow to love pedal cars, they can start entering races with you as their coach and pit crew.

They may turn into collector's items. Many people collect and restore vintage pedal cars. If well taken care of, your child's pedal car could retain or improve its value over time. Some rare antique children's cars sell for more than $1000. This also offers another bonding opportunity for you and your children as you spend time maintaining or restoring your vintage pedal cars.
Pedal Car Tip:

Restored antique pedal cars lack some of the modern safety features offered in modern pedal car toys. If you like the look of an antique but you are concerned about safety, look for one of the several modern retro-style pedal cars available.

Buy Pedal Cars
Back to Guides Directory