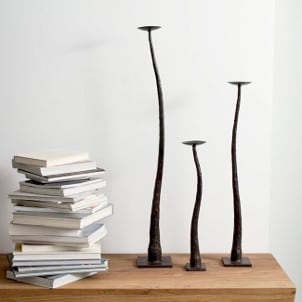 Are you looking for an unusual way to decorate your home? You may want to consider decorative accessories from the Worldstock Fair Trade store. These decorative pieces are handmade by artisans from across the world and offer you a beautiful, unique way to bring life and culture into your home.
Reasons to Buy Worldstock:

World designs: The world's cultures are incredibly diverse, each creating beautiful yet varied decorative pieces. If you're considering buying decorations for your home, think about enriching your decor with a tribal mask from Africa, a hand-painted vase from Peru or an embroidered throw pillow from Morocco. With unique designs from the world's cultures, you can make your home a colorful, welcoming abode.

Eco-friendly: Worldstock supports sustainability in all products, including decorative accessories. Vases, sculptures, mirrors and even wall hangings are made from sustainable or recycled materials by artisans looking to preserve the environment and local traditions. If you're focused on eco-friendly decor, look for exceptional pieces from around the world that promote recycling, sustainability and preservation. In addition, Worldstock items are shipped using carbon neutral shipping to further aid the environment.

Handmade quality: The craftsmen and women who create decorative pieces for Worldstock use traditional techniques, sometimes centuries old, and most pieces are handmade. Mass-produced products can't compete with the quality and attention to detail put into handcrafted decor. When you buy Worldstock, you know you're getting a product made by skilled artisans and a product that will last for years to come.

Fair trade: The Worldstock store runs on a principle of fair trade, returning as much money as possible directly to the artisans, rather than the majority of the profits going to middlemen. This helps the artisans support their families and continue their trade. When you decorate your home with artisan-made products, you are supporting the artisans directly and you know the proceeds are going to a good cause.

Artisan story: Each artisan's story is told on the product page. This helps you know where your decorative accessories are coming from and who made them. Each vase, painting, pillow and sculpture has its own story before you even buy it. For this reason, along with their unique beauty, Worldstock decorative accessories make incredible conversation pieces for your home.

Buy Worldstock Decorative Accessories
Back to Guides Directory