Best Reasons to Buy Cheap Scrubs
by Lindsay Law

Working as a health professional requires clean, easy-to-care-for clothing, and inexpensive scrubs fit the bill. Classic and comfortable, scrubs come in many colors and patterns and are required at most hospitals and healthcare facilities. However, medical scrubs aren't just for doctors and nurses anymore. Read on for the best reasons to buy cheap scrubs.
Buying Cheap Scrubs: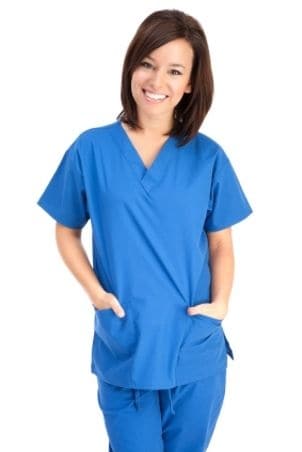 Shop Scrubs ▸
Buy medical scrubs for work.

Nursing scrubs are a staple in medical offices because they are easy to wash, breathable and feature unisex styling. Famous for one-size-fits-all drawstring pants, medical scrubs are convenient for men and women of all sizes. Medical uniforms and scrubs also feature comfortable tops with either an overlapping V-neck or keyhole neckline and oversized pockets for holding medical supplies. Find nursing scrubs in colorful prints or geometric patterns to add variety to your work ensemble and try mixing patterned tops and solid bottoms for a unique look. Keeping extra sets of scrubs washed and ready to go will eliminate stress from your mornings if you work in the medical profession.

Find scrubs to wear as pajamas.

A scrub top is comfortable and can be cute with matching bottoms for bedtime. For a different look, pair scrub pants with a fitted T-shirt or henley top and slippers. To make your scrubs look more like pajamas, find a pair in a colorful design or mix a solid scrub top with patterned scrub pants. Add thick socks and a soft hoodie to stay extra warm, especially during the chilly winter months. You can even buy designer scrubs for a fashionable look that costs less than brand-name pajama pants.

Wear scrubs for everyday tasks and loungewear.

When you're cleaning the bathroom, vacuuming the floors or polishing furniture, comfortable scrub uniforms make it easy to move and get to hard-to-reach places. A cheap pair of scrubs makes a good outfit for dirty tasks, such as painting or gardening. A scrub jacket will also keep you warm as you work outside or snuggle in comfy clothes to watch a movie at home. Buy scrub uniforms for each family member for soft loungewear that is easy to care for. You can even wear a scrub jacket over jeans and T-shirt for a quick casual outfit on the weekend.