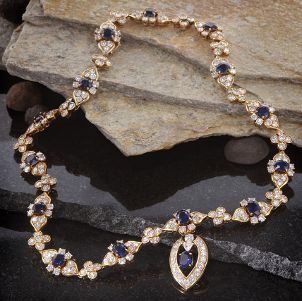 Vintage jewelry is just like any other collectible antique. Beautiful vintage necklaces can hang in your jewelry armoire like a glistening trove of treasure from the past. When you need something special for an important event or when you just want to feel different, reach for a beautiful necklace with a mysterious past. Antique jewelry is the perfect solution to any fashion problem, and vintage necklaces are easy to throw on with anything you wear. Allow us to convince you that vintage jewelry and antique necklaces belong in your jewelry collection.
Buying Vintage Necklaces:

You want some ornate jewelry. Many pieces of vintage jewelry are very ornate. It is difficult to find such extravagant style in modern necklaces. Look for antique jewelry from the Victorian era if you want an ornate antique necklace that will stand out. Antique cameo brooches are also very ornate and decorative. Consider creating your own vintage necklace by using a cameo brooch as a unique pendant.

You are looking for quality investment pieces. Many pieces of vintage jewelry were made with a higher quality of artisanship than can be found in many modern pieces. Antique jewelry was not always mass-produced, especially in earlier eras. Some vintage necklaces were made by hand and may even be one-of-a-kind treasures. An antique necklace made with this much attention to quality and care will easily last for your lifetime and beyond.

You like the gothic look. Some vintage jewelry is perfect for the over-done dark fashion. Ornate vintage necklaces with hand-carved gold pendants covered in rubies or onyx will add a certain depth to dark jeans and a black sweater. These antique necklaces give you something different to wear with your neutral wardrobe without donning too many pastel hues.

You prefer unique accessories. You don't want to look like everyone else. That is partly why you wear jewelry. Vintage jewelry is unique; when you wear antique necklaces, you can be sure that you won't run into someone wearing the same piece. Even if you buy jeans at a popular mall boutique and suits at a department store, you are inimitable when you wear vintage necklaces.

Buy Necklaces
Back to Guides Directory