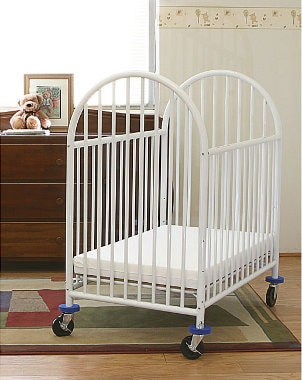 Choosing the right baby furniture can be difficult, and adding a portable crib to the mix can make the decision even harder. Many parents, however, choose to buy them for the convenience and safety benefits. Whether you're considering buying a portable for your primary baby crib or you want to buy one as a secondary crib, the following tips detail the best reasons to buy a portable crib to help you make the best decision you can for you and your baby.
Reasons to Buy a Portable Crib:

Traveling: Whether you're taking a road trip, flying to your destination or simply spending the afternoon away from home, a portable crib can make traveling with your baby much easier. Travel cribs are designed to fold up easily and are lightweight as well. They are also easy to set up when you reach your destination and provide your baby with a safe place to sleep while away from home.

Keeping close: There are two styles of portable cribs you can use at home: portable travel cribs and standard portable cribs. Both styles of baby cribs are easy and safe to move from room to room in your home so you can keep your baby safe and close, no matter where you are in your home. Keeping your baby close to you in a during the night and daytime naps can also help reduce the risk of SIDs since your baby will be close enough for you to hear if anything goes wrong.

Babysitting: If you're dropping your baby off with a babysitter for the evening, taking a portable baby crib along is an easy way to ensure that your baby gets to rest in safety and comfort. They are ideal for spending time with a babysitter or family member, since they are portable, lightweight and easy to set up.

Space saving: Many parents find themselves limited on space when they are preparing the baby's nursery, and cribs can take up a lot of space in your home. Portable cribs help with space issues because they are typically much smaller than a standard crib. Because they are so much smaller, they are also easier to fit into your own room if you choose to have your baby sleep in your room for the first several months.

Play time: Many of the portable crib styles available double as playards. A crib-and-playard combination not only saves space, but makes things more convenient for the busy parent. Your baby can nap during the day in play in there as well when she wakes up.

Buy Cribs
Back to Guides Directory