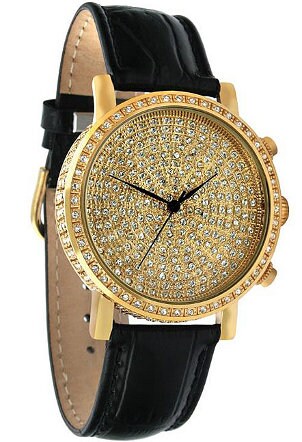 A luxurious watch is a fantastic addition to any wardrobe. Gold is the clear choice when you are looking for opulence, whether you are shopping for rings, pens, or timepieces. Gold watches are the perfect places to start if you are looking for a wristwatch that will increase in value. Reward yourself with a gold watch or buy watches with gold accents to give as gifts. A watch is something you will wear every day for many years, so make sure that you shop for valuable women's watches and durable men's watches. If you need more convincing, consider our best reasons to buy a gold watch.
Buying a Gold Watch:

Unmatched aesthetic: Gold is often imitated, but authentic gold offers luster and colors that are not easily duplicated. Whether you choose high-quality 18-karat gold or affordable 14-karat gold plating, men's watches and ladies watches that incorporate this precious metal don't lose their shine or color. A watch that is accented with gold or made entirely out of the shimmery substance will seem to glow under any light. If you opt for men's and women's watches accented with gold, consider brown leather watch straps or dramatic red bezels to complement the metal. A gold wristwatch is a stunning accessory.

Unrivaled value: Gold may be a bit pricey, but it is always worth the investment. Gold tends to grow in value as time passes; the gold men's or ladies watch you buy today could easily be worth a lot more when you pass it on to your son or daughter. Many are priced similarly to less-valuable wristwatches. Be sure to buy one that will last for many years or decades. Gold accessories that are hundreds of years old are still being worn today.

Impressive gifts: People have been saying "I love you" with gold for centuries. After the gold wedding rings and gold anniversary earrings, consider giving a luxurious gold watch. It would be a fabulous surprise on any birthday or gift-giving holiday. Celebrate your relationships with the metal that stands the test of time.
What Do You Want to Do Next?

Shop for Women's Gold Watches
Shop for Men's Gold Watches
See All Gold Watches
See All Guides
Read More Watch Guides
Get More Watch Tips