With all the materials and types of pots and pans to consider, shopping for the right cookware can be overwhelming. To begin, think about the recipes you and your family enjoy then look for the right cookware to prepare those meals.
You may be tempted to buy a cookware set because it's an easy way to get a lot of cookware all in one place. However, sets usually come in only one material, which limits your cooking versatility. This means that buying pots and pans individually gives you more options and freedom in the kitchen and it ensures that you're getting the pieces you'll need and use.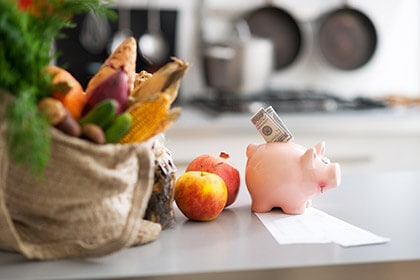 Set Your Budget
Whether you're looking for a single pan or a complete cookware set, keeping a budget in mind will help you determine what is essential for your kitchen. Pots and pans are vital to everyday cooking, but they can take up valuable storage space. Instead of looking for specialty cookware that can clutter up your cabinets, stick with a few multipurpose pots and pans.
Quality plays a big part in determining what cookware is valuable to your kitchen. Cookware can range in price from $25 to $500. While some prices may seem steep, the quality and lifespan of the materials are often superior. Keep in mind that some pricier pots and pans may come with a warranty that guarantees the items will be repaired or replaced if they become warped or worn out.
If you're considering investing in an expensive piece of cookware, choose an option made with durable materials that are intended to last. Nonstick cookware is not built to last a lifetime, so you'll get more value from purchasing a less expensive nonstick pan and spending the big bucks on more resilient materials.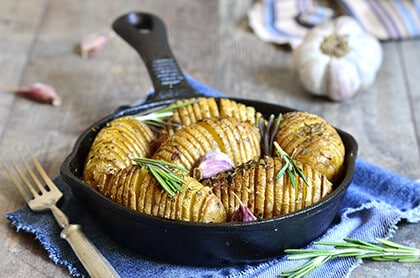 Skillet
A 12-inch skillet is the perfect size for cooking one-dish dinners. Stainless steel is the preferred material for an all-purpose skillet. It facilitates searing and browning, which help develop a depth of flavor. Look for a skillet with a lid to get the most out of your pan.
Skillets have angled sides and less surface area, which makes them more lightweight. This means they're easier to manage and ideal for stirring and tossing food. Choosing a heavier material will add to the value and longevity of the pan. Stainless steel with an aluminum core is a low-maintenance choice for this type of cookware.
Cast iron is another effective material for this type of pan. A cast iron skillet is an excellent tool for shallow frying as well as for searing and grilling meats, roasting vegetables, and making stir-fries. Because cast iron is great at maintaining and transferring heat, it becomes the perfect vessel for developing deep flavors and crisp textures. When taken care of properly, cast iron can last for generations.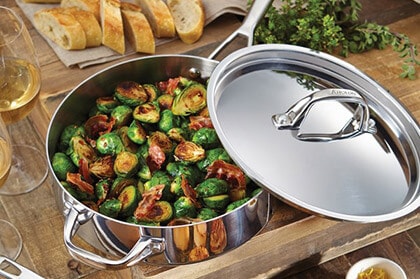 Saute Pan
Saute pans are similar to skillets, but saute pans have straight sides and a larger surface area. This makes them better for shallow frying and simmering. The recommended material is typically stainless steel or a variation, but keep in mind that saute pans are heavier because they have more surface area.
Look for a lidded saute pan, which will increase your cooking options. A pan between 10 and 12 inches is the most versatile and will give you the best bang for your buck. But keep your budget and kitchen storage space in mind to choose a pan that best fits your needs.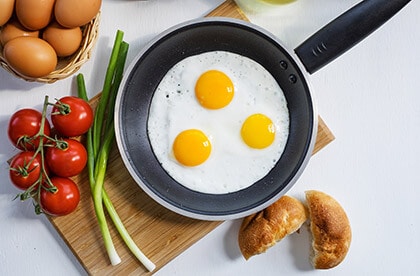 Nonstick Frying Pan
A nonstick skillet is a necessary tool if you cook eggs. Even if you choose not to have a nonstick coating on any other pot or pan, you'll want to have it here because of the nature of eggs and their tendency to stick to most cooking surfaces. A frying pan between 8 and 10 inches is usually large enough to get the job done. If you can find a nonstick skillet with a lid, it will be even more practical.
Nonstick coatings have a fairly short lifespan. Over time, the finish will begin to wear and eventually lose its nonstick ability, so save yourself a few bucks and go for pans in the $20 to $40 range.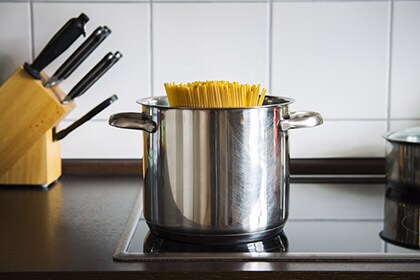 Stockpot
From boiling pasta to making corn on the cob, this pot will get a lot of use in most kitchens. For this kind of cookware, look for a material that is easy to care for and will last a long time. Avoid stockpots with a nonstick finish, as this finish isn't necessary for most recipes, and the surface tends to wear out more quickly.
Stainless steel and anodized aluminum are popular choices because they heat evenly and are fairly easy to care for. Cast iron and copper stockpots are beautiful and will last a long time, but they'll require more care and are impractical for everyday cooking.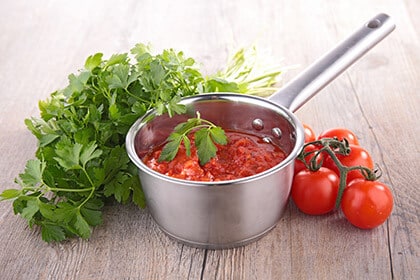 Sauce Pans
A 3- to 4-quart saucepan is a great tool for preparing sauces, cooking small batches of soup, hard boiling eggs (if it has a lid), and heating up leftovers. Avoid nonstick and cast iron, as they are generally less practical. A quality stainless steel or even a copper pan both look great and heat up evenly.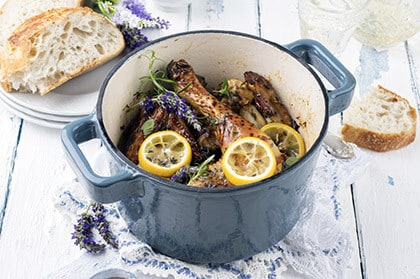 Dutch Oven with Lid
If stir-fries are a mainstay in your household, it's time to consider buying a wok. A wok is a deep, round, and very wide pan that's typically made of steel. Even though woks are intended for stir-frying, they can also be used for deep frying, steaming, and simmering.
Look for a wok made of durable materials like carbon steel, and avoid nonstick coatings. Some woks come with a rounded base that requires a wok ring to steady it over a burner, but a flat-base wok is more practical for most kitchen setups.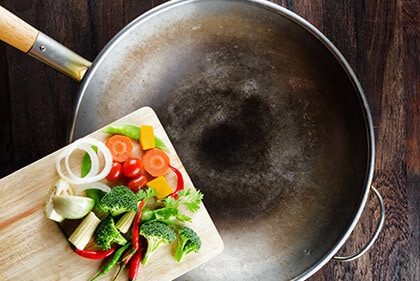 Wok
A lidded Dutch oven can be one of the most useful pieces of cookware in your kitchen. An enameled cast-iron Dutch oven not only lasts for years, it's also easy to maintain and offers a wide range of cooking options.
This pot is excellent for a variety of methods, including searing meat, braising a pot roast, simmering soups, and tossing together one-pot meals. You can even use it to bake rustic bread. Look for a 5- to 7-quart capacity Dutch oven with oven-proof materials.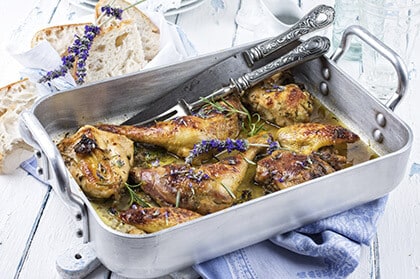 Roasting Pan
Not every kitchen needs a roasting pan, but if you plan to cook a turkey for Thanksgiving, or if you love to eat juicy, roasted chicken, then a roasting pan is a great addition to your kitchen. While it may seem like a specialty item, a roasting pan actually offers a range of uses.
A good roaster is your one-stop pan for roasting, braising, searing, and stewing. With the ability to go from stove top to oven, a quality roasting pan can be a great ally when it comes to building a flavorful dish. Look for heavy-duty construction with sturdy handles. Stainless steel is the preferred material for many home cooks.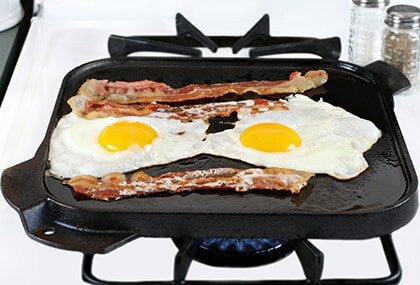 Griddles
While a griddle may not be a necessity for every kitchen, it can make preparing weekend breakfasts a breeze. Whether cooking for one or for a crowd, a griddle is a great multitasker in the kitchen. Griddles have a wide, flat surface, which provides sufficient space to cook a lot of food at once.
A nonstick griddle pan allows you to use less fat when cooking; but keep in mind, this surface will wear away over time. Cast iron makes an excellent material for a griddle, and if you're willing maintain it properly, it can be a valuable investment.
Along with her passion for cooking, spoiling her cat, and getting lost in a good book, Melissa enjoys collecting teapots and unique curiosities. She loves to support local artisans and finds pleasure in the beauty that one-of-a-kind pieces bring to her space.