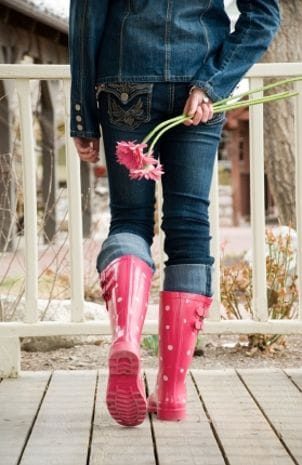 You know you want a pair when it's raining outside, but rain boots can be worn for more than just the rain. Cute rubber boots are not only functional when it's cold and wet outside; they're also fashionable. Whether you're looking for something to keep you dry or a cute addition to your favorite outfit, these tips can help you wear your favorite pair of rain boots, even when it's sunny outside.
Places to Wear Rain Boots:

Local park: If you're headed to the park, you may want to consider pulling on a pair of rain boots before you go. Whether you're taking your kids to the playground or your dog for a game of fetch, the park can be dirty and sometimes even damp. Don't risk ruining your favorite shoes: Wear a pair of these instead.

Backyard garden: Throw on a pair of galoshes before heading out to the garden. They'll protect your feet from mud and dew, and this taller style of boot can even keep your pants clean and dry. Rubber boots are easy to wash mud and dirt off of, too, making them the perfect gardening shoe.

The lake: Your feet are likely to get wet when you're on the lake, at the beach, or strolling along the riverbank. Rubber boots are especially helpful in marshy or muddy areas where you're likely to sink in a bit. Tall boots can protect not only your feet from puddles and splashes but your legs as well. Stay dry, clean, and comfortable with waterproof boots on your feet.

Traveling: Whether you're taking a road trip or flying to Paris for the weekend, you want to make sure you're ready for any kind of weather. Pack a pair of rain boots to keep you dry while you're sightseeing in case it rains. You'll stay warm and dry and look fashionable at the same time. A pair of rain boots with a matching umbrella tucked away in your luggage keeps you from getting caught unprepared when the weather turns.

Shopping: Rain boots are no longer just for rainy weather. A cute pair of galoshes is a stylish addition to any chic outfit, rain or shine. One of the best parts of rain boots is the fun prints available. Throw on a pair of polka dot rain boots over skinny jeans and head to the mall, grocery store, or even a lunch with friends.
What Do You Want to Do Next?

Shop for Rubber Boots
Shop for Women's Boots
See All Women's Shoes
See All Guides
Read More Clothing and Shoe Guides
Learn More about Shoes