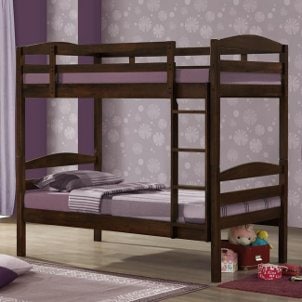 Bunk beds are more popular than ever thanks to their usefulness, value and space-saving qualities. They're popping up everywhere, and thanks to their newfound popularity, it's possible to find bunk beds in a huge range of sizes, styles, materials and colors. Of course, the big question about bunk beds is, "Where do they belong?" It's a good question that begs to be answered, and if it's something you've been wondering, wonder no more; this article will help you figure out the best places to use a bunk bed.
Best Places for Bunk Beds:

Kids' rooms: If there's one audience that will always love bunk beds, it's children. Kids simply love these beds for a variety of reasons. Bunk beds provide a sense of adventure for children; kids love to scramble up and down them and transform them into clubhouses. With bunk beds, every night is a slumber party. They're perfect if you have two children who share a bedroom, but bunk beds are also ideal for only children who like to have friends spend the night. If you are thinking about getting a bunk bed for your kids, remember to look for those with guard rails to ensure no late night emergencies.

College dorms: Are you heading off to school for the first time or have a child that's doing so? Bunk beds are excellent choices for dorm living. By putting a bunk bed in a dorm bedroom, you'll save space for other important dorm furnishings, such as desks, dressers and TV stands. If you won't be sharing your room, think about loft beds, which are also excellent space savers. Loft beds are elevated beds that allow you to store things beneath them. For example, some loft beds feature built-in computer desks, while others let you hang your clothing under them.

Apartments: Like dorm rooms, apartments are ideal spaces for bunk beds. Roommates can benefit from their space-saving qualities, as well. If you and your roommate are in a tiny space, there's no better way to free up room than with bunk beds. If you live alone in a studio or other small apartment, consider a loft bed; you won't regret it.

Buy Kids' Beds
Back to Guides Directory