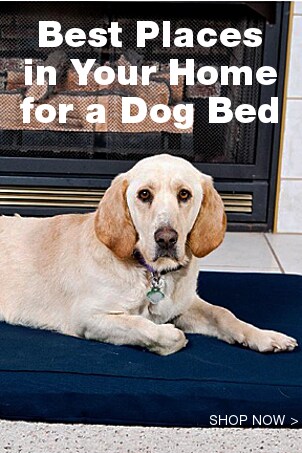 You want to give your dog the best, and a cozy pet bed can make him feel comfortable and loved in your home. Dogs sleep in their pet beds at night as well as for naps throughout the day. Giving him a comfortable bed to relax in is only part of making him feel at home, however. Finding the right spot for your dog's bed is just as important as finding the right bed to start with. You may even need several pet beds throughout your home. Buy a dog bed for each of these places in your home to maximize your canine's comfort.
Places for a Dog Bed:

Inside the crate: Many dog owners prefer their pets to sleep in crates and kennels during the night, and some dogs may even prefer this themselves. A crate offers a cozy, den-like space to sleep in. Of course, you'll want to make the kennel a bit more comfortable for your pooch with a few pet supplies, like toys, a blanket, and a dog bed. A padded crate bed can make a crate comfortable enough for your dog to sleep inside all night long.

In your bedroom: If you have a dog who likes to sleep where you sleep, but you don't want him cuddling up on the bed with you, consider placing a dog bed on the floor in your bedroom. Try a memory foam dog bed, which will be just as comfortable as your mattress. Fido can sleep comfortably all night, knowing his owners are nearby, and you'll get a good night's rest without your dog stealing the blanket all night long.

Near the family: Dogs are incredibly social creatures who love to spend time with their owners. Your family dog will certainly want to be around the family in your home, so a padded dog bed near the family is ideal. If you spend a lot of time watching movies together, place a pet bed in the TV room where your dog can nap. You may even want to find one with a cover that coordinates with your decor. If your family gathers in the kitchen often, a dog bed in the corner or a neighboring mud room is perfect.

Somewhere quiet: Just like us, dogs like peace and quiet sometimes. Give your pet a bed somewhere quiet and out of the way, like a basement family room, a guest room, or a mud room. Look around your home for low-traffic areas away from loud appliances to place a cozy dog bed for your pooch to nap in during the day.

Shop Crate Dog Beds
Shop Memory Foam Dog Beds
Shop All Pet Beds
See All Guides
Read More Pet Guides
Learn More about Pet Gear & Supplies