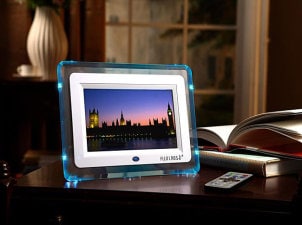 Personalize your office with the photographs you love in stylish picture frames. While decorating a small office can be a challenge, you can make the area fun but still professional with the right photo frames. Whether wooden picture frames fit your decor best or you want a digital picture frame to show off your favorite family shots to co-workers, you can buy picture frames that work well for your space with the following tips. Read on to learn about the best picture frames for the office.
Picture Frames for the Office:

Buy wall frames to keep your desk uncluttered. You have a computer, office phone and other necessities already on your desk, so why not save some space and hang wall photo frames opposite your desk so you can see them easily? Matching photo frames in black or white will create a unified look, but you can also buy wooden picture frames to complement a wooden desk and matching cabinets. If you want certain images to stand out, place them in 8x10 picture frames and center them between smaller frames, such as 5x7 picture frames. Wall photo frames can also be hung on the wall behind your desk if you're short on room in the office.

Find small frames to place around your workspace. While you may want to buy picture frames to hang up, it can also be nice to have a few photos propped near your computer or filing cabinet to glance at every day. Choose small picture frames in colors you like to brighten up a drab desk and arrange them artfully so guests and clients will also enjoy looking at them. Buy 4x6 picture frames made of acrylic for a modern look; small picture frames made of aluminum or stainless steel are also perfect for a contemporary office. Find 5x7 picture frames for larger images you want to display, too.

Get a digital photo frame for convenience. When you simply don't have room for all the photos you want to display, a digital picture frame is your best option. While these accessories are often sold as 4x6 picture frames, you can often find larger styles, including 8x10 picture frames, if you want a bigger display screen. Some large digital photo frames can even be mounted on the wall if you want more desk space.

Buy Photo Frames and Albums
Back to Guides Directory