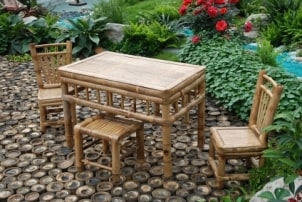 Impress friends and family during your next barbecue when you buy stylish patio sets for your backyard. Whether you want an elegant teak patio set to complement a polished deck or a wicker patio set for a more vintage feel, the following suggestions will help you find patio dining sets that fit your space and balance your home's decor. Read on for tips on finding the best patio sets for your home.
Buying a Patio Set:

Choose wooden patio sets for a classic look. If your home features traditional furniture and neutral colors, you'll probably be very happy with wooden patio sets. This type of patio furniture is sturdy and durable, and you can choose from many different types of wood, including cedar, acacia, eucalyptus and pine. Wooden patio sets also come in many different styles, including classic Adirondack and Shaker designs, and you can find sets that have shiny finishes for a more polished look. A teak patio set may be your best option if you want to create a laid-back, tropical vibe in your backyard. When you are choosing wooden outdoor patio sets, make sure they are finished with a waterproof sealant for protection against the weather; you can also apply this sealant yourself.

Buy wicker patio sets for a vintage or modern look. While you may think of a Victorian home when you think of a wicker patio set, this style of patio furniture is actually very versatile and can work with both contemporary and vintage decor. If you want to create a 1950s feel in your backyard, choose white wicker patio furniture sets that include rocking chairs, coffee tables and classic benches. For a modern look, pair dark brown or black wicker patio furniture sets with sage green or tangerine-colored cushions. Wicker pieces with square, geometric shapes give you the clean, streamlined look so common in contemporary decor.

Purchase a wrought-iron patio set for sophistication. When you want to entertain guests in a statement-making way, buy a wrought-iron patio set. With its smooth, black appearance and intricate scrollwork, this patio dining set looks equally at home in a garden or on a tiled patio. Add colorful cushions to make your wrought-iron patio set more comfortable, especially for relaxing after the meal has ended. Wrought iron is also the perfect choice when you need outdoor patio sets that are durable and heavy enough to accommodate a lot of guests.

Buy Patio Dining Sets
Back to Guides Directory