Best Paper Cutters for Scrapbooking
by Lindsay Law
If you love making paper crafts like cards and scrapbooks, paper cutters are an essential supply for your paper cutting craft box. Making cards and scrapbook pages can be time-consuming, so why not make the process easier and faster with the right paper trimmer for the project? A scrapbooking paper cutter will allow you to make precise trims to photos, paper, stickers and other scrapbooking supplies. Read on for tips on the best paper cutters for scrapbooking.
Scrapbooking Paper Cutters: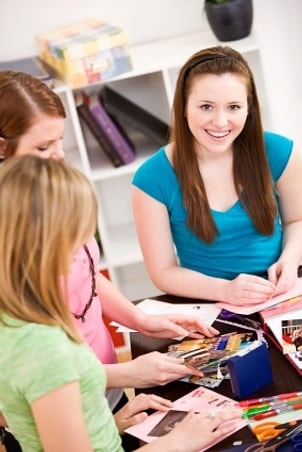 Shop Paper Trimmers ▸
Slice through paper with a guillotine.

When you want exact cuts fast, a paper guillotine is perfect for the job. Named for its sharp blade that extends vertically and quickly slices through paper and cardstock, a paper guillotine is available in many different sizes and usually includes a ruler so you can line up paper before cutting it. Guillotines are some of the best paper cutters as they cut quickly and precisely. Make sure to supervise children who are using a guillotine cutter because the blade can easily nick small fingers.

Buy a paper trimmer with a grid.

Most paper trimmers include a ruler and grid so you can measure paper and make sure it is straight before trimming. Some paper-cutting tools also include a clamp that prevents the paper from slipping. Look for a scrapbooking paper cutter that is wide enough for 12-inch by 12-inch paper and includes a large grid that allows you to easily cut blocks and squares for your scrapbook.

Look for a rotary paper trimmer.

If you plan to trim a stack of scrapbooking paper, rotary trimmers will do the trick. Simply place a stack of paper in the paper cutter and slide the blade quickly forward to make precise, even cuts. Rotary trimmers also work well for cutting strips of paper for other crafts.

Find a paper cutter that can also trim fabric.

Many scrapbookers incorporate fabric swatches into their scrapbooks, so a paper trimmer that doubles as a fabric cutter is a useful tool. If you want a craft tool that will multitask, look for a paper trimmer with a blade that is sharp and durable enough to also serve as a fabric cutter. The best paper cutter can usually multitask, whether it cuts fabric swatches or slices through many layers of cardstock and other thick papers; a tool like this can make your paper cutting and other crafts easier since you have fewer tools to accomplish the same amount of tasks.