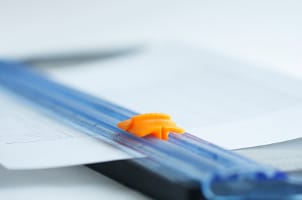 Time is money, and paper cutters (also called paper trimmers) save you time around the office because they allow you to cut large quantities of paper quickly. Paper trimmers help to ensure documents, pictures or other projects are cut uniformly and precisely, allowing each item to look professional for display or distribution. Several types of paper cutters are constructed with different purposes in mind, so think about how you plan to use these tools before choosing a paper cutter for your office. Keep reading to learn about the best paper cutter types for your office.
Office Paper Cutter Types:

Economy paper cutters: Economy paper cutters, also called guillotine paper cutters, are the most common type of cutter. They are usually designed with a wood measuring base and a metal arm with a blade that lifts and then chops down on the paper, hence the name "guillotine paper cutter." These paper cutters work best for infrequent paper or photo trimming, and they cut between four and ten sheets of paper, depending on the thickness of the sheets. Look for paper trimmers that have either a wood or particleboard base and feature a safety latch to prevent the trimmer blade from dropping down during use.

Arm paper cutters: Arm paper cutters and trimmers are designed like an economy paper cutter, but they are more heavy-duty and can cut up to 50 pieces of paper at one time. These paper trimmers are good for offices that trim paper and documents in large quantities or very frequently. Look for models that have blades on the arm as well as the board to ensure a swift and precise cut. Check the paper trimmer specifications for safety guards that prevent the arm from moving when not in use.

Electric paper cutters: If you cut large quantities of paper each day, an electric paper cutter or paper cutter machine is an efficient option. These automatic paper cutter machines use power to hold paper down and trim where necessary, allowing you to cut approximately three inches of paper with exact precision. Standard electric paper cutters adjust manually before powering on. Fully automatic electric paper trimmers allow you to input paper-cutting measurements via a keyboard.

Buy Paper Trimmers
Back to Guides Directory