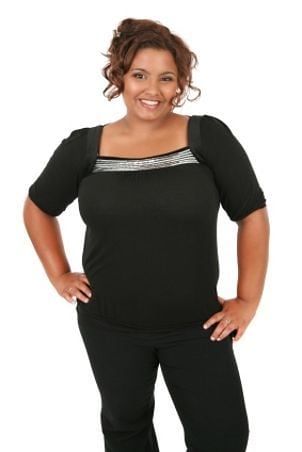 Finding a pair of flattering plus-size pants and that fit well is easy with the right styles and lengths. The key to finding the right pair of pants for your body is to find the right fit and style for you. Full-figured women can easily find plus-size pants that emphasize their curves and look great. Follow these tips to find the right fit and style of pants for you, no matter your size.
Best Plus-Size Pants:

Straight-leg jeans and pants: For plus-size women, finding the ideal pant leg can improve the overall appearance of the pants. Whether you're shopping for plus-size jeans or dress pants, try plus-size straight-leg jeans. This is one of the most flattering styles since it balances the hips and thighs and keeps the body looking leaner. Pants that are tapered at the ankle can cause the hips to look wider than they really are. Although some plus-size women do look good in skinny jeans, straight-leg jeans are universally flattering. Plus-size straight-leg jeans come in a variety of washes, but a dark shade and wash is most slimming.

Wide-leg for a dressier look: As long as the waistband is fitted, plus-size wide-leg pants are a great fit for curvier women. The wider legs of wide-leg jeans and wide-leg slacks will not hug your body or fit tightly but will fall straight from the waist, creating a long, lean silhouette. A pair of wide-leg jeans is always comfortable, and black wide-leg slacks can create even more of a sliming effect. Try wearing plus-size wide-leg pants with heels or boots for an even more streamlined look.

Look for jeans with a slight flare: If you have a wider figure, plus-size boot-cut jeans with a slightly flared bottom will help to balance out a larger midsection. Plus-size boot-cut jeans and pants will also give your legs a long, lean look, especially when worn with pointy-toed heels or boots. Look for slightly flared slacks to wear to the office. A pair of black or khaki flared pants can slim and balance your figure and complement your business wardrobe.

Cropped pants: Wearing a pair of cropped pants can be comfortable and stylish in the summer months, but the wrong length can make you look larger than you really are. Look for plus-size cropped pants that are cut several inches above your ankle and avoid plus-size cropped pants that hit right at the ankle. Cropped pants with a wide cuff will visually balance your body and can be adjusted to the best length for your figure.

Find the right size: No matter your body type, finding the right size of pants is important. Avoid wearing overly large pants because this will give you a bulky look. Similarly, pants and jeans that fit too tightly will emphasize a full figure and can make you look larger. Look for dress pants and jeans that are tailored to fit your figure without appearing too loose or tight. You should be able to easily move and fit two fingers in the waistband of your pants for a proper fit.

Buy Plus-Size Pants
Back to Guides Directory