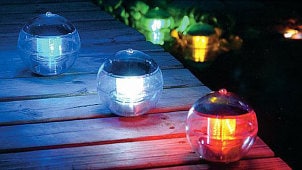 Host an evening party in style when you buy outdoor lighting for your patio. Whether you want outdoor wall lighting to illuminate the back door of your home as you bring food out or LED outdoor lighting you can mount along pathways for extra light, the following suggestions will help you find the perfect outdoor lighting for your patio. Read on for the best outdoor lighting fixtures for your patio.
Outdoor Patio Lighting:

Choose outdoor string lighting for a whimsical look. If you want your next outdoor party or barbecue to have a laid-back feeling, you'll like the look of outdoor string lighting. These versatile outdoor lights can feature miniature lanterns, twinkling bulbs, round globes, small flowers and more, which makes them perfect for a themed party or a special occasion, such as a wedding. Outdoor string lighting can be hung from the trees, draped around a patio awning or even strung around the railings of your patio, depending on the look you want to achieve. While this type of patio and garden lighting won't illuminate your entire backyard, it's perfect for times when you want a subtle glow.

Buy LED outdoor lighting for an environmentally friendly option. When you want bright fixtures that will light even the darkest yard, you'll want to consider buying LED outdoor lighting. While these outdoor light fixtures are often more expensive than traditional fluorescent lights, they light up quickly, generate very little heat and don't use a lot of energy. LED outdoor lights can be mounted along pathways for safe entry into the patio area, and you can also find LED outdoor light fixtures that sit flush with the ground to light pool and area garden areas while saving space. LED outdoor wall lighting is also effective when you want to light up the side of your home or the sides of your garden or patio fence.

Purchase outdoor solar lights for a low-maintenance alternative. There's no need to worry about timing and shutting off your outdoor lights when you buy solar-powered fixtures for your patio. Outdoor solar lights store energy they absorb from the sun during the day and power LED light bulbs at night. While you can set these lights on a timer to come on at a specific time, most outdoor solar lights have automatic sensors that activate at dusk.

Buy Outdoor Lighting
Back to Guides Directory