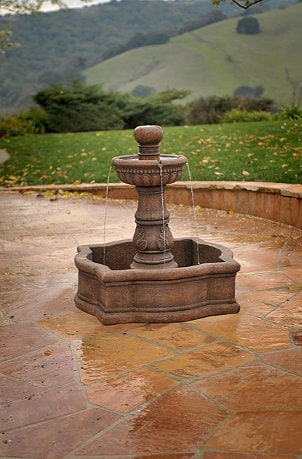 Add elegance and unique texture to your backyard with a beautiful outdoor fountain. Whether you want outdoor garden fountains that dress up your flower beds and shrubs or an outdoor wall fountain to mount against a surrounding wall, the following suggestions will help you find a fountain that works in your space. Read on for tips on finding the best outdoor fountain for your backyard.
Best Backyard Fountains:

Choose outdoor garden fountains for a classic look. If you like the look of an outdoor water fountain but don't want to place it in the center of your backyard, you'll like the versatility of garden fountains. Designed to complement your flowers, grass, trees and other outdoor features, garden fountains are often made of stone, concrete, copper and other natural-looking materials. These fountains come in many different styles, so you can choose between those designed to look like fairies and mythical creatures, floral styles and simple tiered fountains. No matter which outdoor garden fountains you choose, however, be sure to find one that is proportional to your garden and the plants that will surround the fountain. A tall water fountain will look out of place if your garden mainly has small flowers and shrubs that barely reach its base, but a small fountain won't work for a large garden with trees and tall grasses, either. The best fountain will blend in with its surroundings and look as though it naturally belongs in your garden.

Buy an outdoor wall fountain to save space. When you don't have a large backyard or garden for displaying a water fountain, you may want to consider purchasing an outdoor wall fountain for your home. Since these elegant fountains mount against the side of your home or against a garden wall, there's no need to have a lot of room or landscape the surrounding area to complement the fountain. Choose a wall fountain made of stone for a romantic look or buy one made of iron to create a rustic, old-world vibe.

Pick outdoor fountains that are simple enough for your patio. You don't have to have a big backyard and plenty of grass to pull off an outdoor water fountain. A classic, unobtrusive design will work well in an empty corner of your patio or deck, and you can always put a small fountain next to potted flowers if you have a balcony to dress up. The best fountain will instantly create a peaceful setting, no matter where you place it.

Buy Outdoor Fountains
Back to Guides Directory