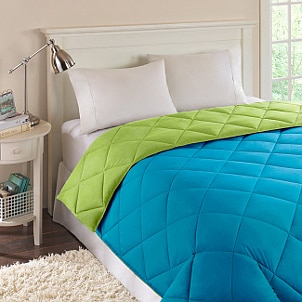 Down bedding is a staple for comfortable beds everywhere. Down bedding has expanded beyond classic down comforters and standard down bed pillows to include items that will make your sleeping experience more comfortable and your home decor more stylish. Down bedding has the ability to keep you cozy during winter months and provides customized support. Keep reading to learn all about the best new down bedding items for your home.
New Down Bedding Options:

Euro-square pillows. A cross between throw pillows and standard-sized pillows, euro-square down pillows are the latest home decor trend can be the perfect complement to large furniture and upholstered headboards. These oversized pillows look good paired with both standard pillows and smaller throw pillows. Prop two euro-square down pillows against your headboard for a modern look that can be used as support for reading in bed. Outside of the bedroom, euro-square down pillows can be used on large couches to balance out the scale of a room.

Oversized comforters. If you can't get enough of your down comforter, try upgrading to an oversized one. Oversized down comforters drape to the floor, giving your bed a dramatic and cozy look. Oversized down comforters are ideal for people who share a bed because they ensure that there is enough down bedding to go around.

Down body pillows. If you love the customized support of a down pillow, pick up a down body pillow. These pillows are perfect for people with back or joint pain because they can be used in a number of ways to support your body while you sleep. Tuck one in between knee joints to align your spine or double it up for an elevated head rest.

Microfiber down comforters. If you want to jazz up your down comforter's look without a duvet cover, consider picking up a colored down comforter encased in microfiber. These vibrant new down bedding additions take everything you love about the look and feel of a down comforter, but make it easier to style. Microfiber down comforters give your down comforter color and are reversible, so you won't get bored with the same look.

Buy Down Bedding
Back to Guides Directory