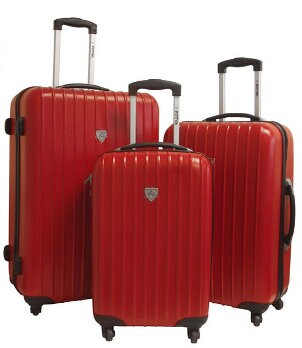 Fashionable luggage is back, reminding us of a time when people wore fine clothes and carried multiple designer suitcases while traveling. Black has dominated suitcase design for a while, but fashion luggage now offers many colors and patterns to make your travel wardrobe distinctive. As an added advantage, the new designs have lost the bulk of the older bags. This luggage is stylish, lightweight and durable.
Luggage Fashion Trends:

Bright colors now join basic black on the luggage rack. Bright colors now join basic black on the luggage rack. The new fashion luggage features many colors, but the most stylish hues tend to be light and bright. You'll find plenty of sunny yellows, sky blues and vibrant greens, pinks and oranges, especially in hardside suitcases. These colors are most common in carry-ons and three-piece sets.

Retro patterns for luggage mirror trends in apparel and home decor. The mid-century prints, whether on couches, dresses or tote bags, give you more options for personalizing a purchase to your own tastes. Florals and geometric patterns turn ordinary suitcases into wardrobe accessories that look as though they were made just for you. You'll find the latest animal prints in this luggage, too. Patterns are most widely available in the carry-on bags.

Black-and-white patterns for suitcases appeal to anyone who prefers a classic, refined look. These patterns include plaids, checks, chevrons and small polka dots. The palette can be black and white or a mixture of black, white and grey; some plaids will have a subtle accent color. If you need to maintain a professional look while traveling, or if you just like the easy, chic style of black and grey clothing, consider a set of these bags or choose one black-and-white case to update and accessorize a black or silver luggage set.

Rich jewel tones are the new neutrals for luggage sets. Deep purples, greens, reds and blues are good choices if you want color that doesn't necessarily light up the entire room. And the colors don't have to be the darkest, nearly black shades; for example, purples such as plum and amethyst are on-trend this year and becoming more common in luggage sets.

Buy Luggage
Back to Guides Directory