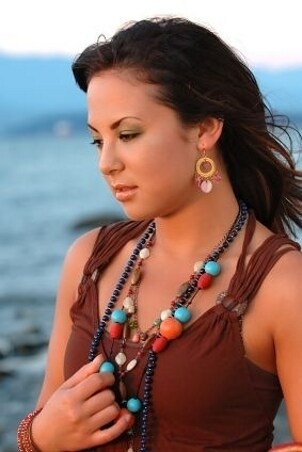 Keep your look interesting by trying new jewelry to match the changing seasons. Necklaces offer a stunning range of variety, making them perfect for a rotating wardrobe. If you want a fresh look to match the new weather but you aren't prepared to invest in a completely new outfit, consider these necklaces to celebrate and embrace the seasons.
Necklaces for Every Season:

Spring: The snow has begun to melt, and you can finally see some green and blue again outside. Celebrate spring with pastel pearl necklaces, flower and leaf pendants, emerald and diamond necklaces and bright yellow chokers. Twine necklaces with bright beads look fabulous with candy-colored cardigans and floral vintage dresses.

Summer: Add style to cutoffs and tank tops with layers of Bohemian beaded necklaces. Bright pink beads and chunky gemstones bring life to an outfit when it's too warm to layer on other accessories. Leather necklaces and gold chains are also ideal for summer. Wear both styles at the same time for texture and trendy fashion.

Fall: Cool, crisp air always inspires a change of dress. Fall fashion is highly anticipated each year, and jewelry is no exception. Jewel tones are always popular in fall collections. Fully embrace the trend with a few new pieces of gemstone jewelry. Amethyst, ruby and sapphire necklaces look lovely against grey dresses and maroon jackets. Citrine, carnelian and smoky quartz pendants bring richness to black sweaters and forest green tights.

Winter: Winter is always a wild card in the fashion industry. Will people settle in with grey sweaters, black dresses and thick white tights or will everyone collect colorful apparel and accessories to get through the stormy days? Neutral jewelry is always a safe bet in winter. Black diamond pendants and platinum chains go well with the pale blues and dark greys of the season. Sterling silver charms add sparkle to holiday ensembles while orange, blue and red beaded necklaces keep your wardrobe thriving.

Buy Necklaces
Back to Guides Directory