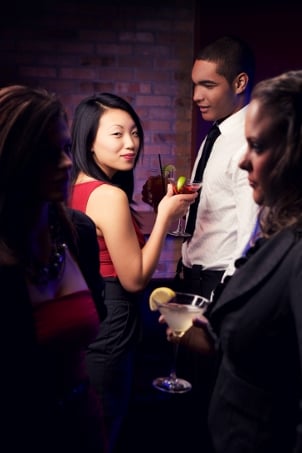 Whether you're partying in your home town or bar hopping in another country, necklaces will help you match the stars. A pair of skinny jeans is instantly club-ready when you add a long necklace and a sparkly pendant. A vintage sack dress becomes hip and trendy when you add several gold chains sporting pearl pendants. Don't hesitate to transform everything in your closet into stylish outfits to wear to the coolest restaurants, the most exciting live shows and the tried-and-true hot spots. These jewelry tips will help you craft looks that are dazzling, authentic and chic.
Necklaces and Pendants with Style:

Oversized links: A big splash of metal gives any outfit a modern look. Save the delicate links for daytime and invest in a necklace with big, bold links to accessorize club wear. Sterling silver link jewelry is affordable; look for gold-plated sterling silver necklaces for extra color and sparkle. Some with oversized links use several different types of metal in an alternating pattern. Necklaces with oversized links can be worn without pendants, especially when worn long or doubled.

Cubic zirconia pendants: Gemstone jewelry sparkles beautifully under the lights of a disco ball, but you may not want to wear your best diamond and sapphire necklaces while pub crawling in a foreign country. Pack a few cubic zirconia pendants instead. Cubic zirconias sparkle just as brightly as diamonds, but they are much more affordable. Oversize pendants are especially fun for evening. Wear large cubic zirconia pendants on long chains or short pieces of velvet. Better yet, layer both long and short pendant-laden necklaces for a look that is glamorously overdone.

Estate brooches: Vintage fashions are back in style and brooches are incredibly fun and easy to wear. Brooches and pins are ideal pendants for nights on the town because they can be clipped onto any chain or strand to create a unique look. Dressing up a neutral outfit with a long strand of white pearls? Clip an antique gold brooch onto the necklace for a piece of jewelry that will sway as you dance and sparkle in any light.

Buy Pendants
Back to Guides Directory