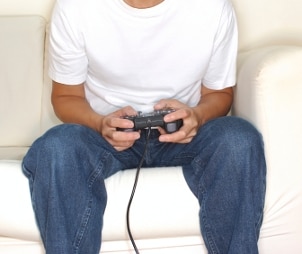 Multiplayer modes in PS3 games are more challenging and more fun to play for everyone. The fact that the top PS3 games tend to have strong multiplayer features is no mistake. Use this list of the best multiplayer games available for PlayStation 3 to find a multiplayer PlayStation 3 game that gives you the interactive options of playing with or against human players.
Top Multiplayer PS3 Games:

"Marvel vs. Capcom 3: Fate of Two Worlds": Classic arcade fighting games are alive and well, as illustrated by the latest "Marvel vs. Capcom" installment. Most video game lovers grew up playing these stylized, fast-moving battle games and the graphics available for PS3 games make this game even more stunning. Play as Marvel characters from your favorite comic books and movies or take advantage of new and old Capcom characters. This PS3 game features updated looks, moves and tag-team options for all your battle match-ups.

"DC Universe Online": Not many PS3 games have cracked the massively multiplayer realm of PC video games, but DC Comic's new MMORPG (massively multiplayer online role-playing game) is available as a PlayStation 3 game as well as a PC game. Construct your own custom superhero with your own superpowers and personally designed costume. Like other PS3 games, you can connect to the online universe through the PS3 network and play with thousands of other newly minted superheroes.

"Blur": The adrenaline-fueled action of "Blur" combines the realistic driving mechanics and vehicle designs of serious racing PS3 games with the absurd weapons and wrecks of go-cart PS3 games. An awards and leveling system rewards you for achieving certain feats in the game as you improve your driving reflexes. This is one of the best PS3 games to play on a split screen with your friends.

"Call of Duty: Black Ops": As one of the best-selling PS3 games ever, "Black Ops" appeals to those who love the tactical team aspects of historical first-person shooters. Play online with others in battles to capture territory or just rack up kills. The rich online community for this game comes close to overshadowing the solo campaign mode, offering more intense game-play than some other multiplayer PS3 games.

"Left 4 Dead": This apocalyptic sci-fi survival shooter pits you and three friends against wave after wave of the zombie hordes. Other PS3 games have centered on horror survival, but "Left 4 Dead" injects a bit more humor, with improvised weapons and witty dialogue from the characters.

Buy PlayStation 3
Back to Guides Directory