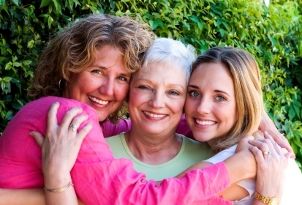 If you are a bride-to-be, you know how important it is to get the perfect mother-of-the-bride gifts to honor Mom. Your mother assists you as you hunt for the perfect flowers, the ideal gown and the right wedding cake for your wedding, so a great gift for Mom is a small way to say thanks and show your love. Selecting wonderful gifts to surprise your mother is crucial, so read on for tips on getting the best mother-of-the-bride gifts for Mom.
Buying Mother-of-the Bride Gifts:

Picture this: One of the best gift ideas for women is a beautiful frame displaying a special photo or two. Any mother would cherish a silver-plated double frame containing a photo of her daughter as a little girl on the left and in her wedding gown on the right as personalized gifts from you. On the other hand, you may want to frame a photo of you and your mother together. Either way, she will treasure these gifts forever. Digital photo frames also make great gifts for women.

All that glitters: A symbolic piece of jewelry is another of the best gift ideas for women, especially for the mother-of-the-bride. For example, a ring bejeweled with your birthstone, a necklace displaying twin hearts or a bracelet with a delicate "Mother" charm will delight your mom, and unique jewelry pieces are wonderful gifts for Mother. Sterling silver jewelry pieces also make great gifts for her.

Take notes: Present your mother with a charming or elegant journal and stationery as thoughtful gift ideas for her. Inscribe the cover or first page of the journal with a handwritten note and include a classic gold pen as personalized gifts for your mother. Ask her to write thoughts, memories, poems and anything else she desires in her journal as a legacy for you. Memory books and scrapbooks also make great gifts for Mother; they are good gifts for women in your wedding party, too.

Fill your basket: Even though the mother-of-the-bride often finds herself scurrying around as she helps her daughter prepare for the wedding, she probably doesn't stop to pamper herself -- and you probably don't have too many gift ideas for Mom. If this describes your mother, perhaps the best gift for Mom would be a basket of spa items. Encourage her to spend a day or two indulging herself; include gift certificates to a spa or her favorite beauty store as great gift ideas for her.

Heartfelt gifts: A little girl owns her mother's heart long before she draws her first breath. As you embark on a new life, show your mother that she still has your heart by looking for sentimental heart-shaped presents as gift ideas for Mom. It might be a locket, a pendant or a paperweight. Whatever it is, it will surely make a great gift for her.

Buy Gifts
Back to Guides Directory