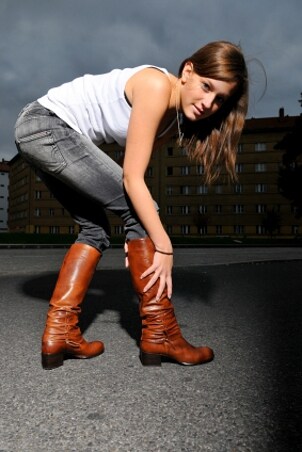 If you love butterfly jewelry, but wearing it makes you feel like you're taking a trip back to the '90s, then you need modern butterfly necklaces. Contemporary butterfly pendants feature glittering gemstones, precious metals, and unique details in place of rainbow enamel wings and plastic accents. Modern butterfly jewelry is whimsical, but in a sleek and grown-up way. Indulge with these favorites in butterfly necklaces.
Fresh Butterfly Necklaces:

Gilded wings: Precious metals and a touch of sparkle can instantly update any jewelry style. Gold, silver, and platinum butterfly pendants are anything but childish with their glittering and glowing wings. Look for fabulous diamond butterfly necklaces and gemstone pendants. Sleek solid gold butterfly necklaces with amethysts, sapphires, and garnets are a must for any modern collection of fantastical jewels.

Naked: On the opposite end of the spectrum are minimalistic butterfly necklaces. These necklaces are modern with their clean lines and urban vibe. Consider naked butterfly necklaces made of stainless steel, sterling silver, and white gold if you like your jewelry simple and neutral.

Irregular sizing: Modern jewelry tends to be generously oversized or fabulously undersized. Extra-large butterfly pendants can be seen from across the room, giving you celebrity-level styling. Wear one with other pendants on a long chain or alone on a short ribbon. Petite butterfly necklaces are also incredibly modern. Wear one delicate butterfly pendant on a short chain and layer the jewelry with several other delicate chains and miniature pendants. Small butterfly charms also look nice on bracelets.

Flying in clusters: A cluster of butterflies is always better than just one. Many butterfly necklaces feature several butterfly pendants in one amazing design. Look for necklaces with clusters of tiny butterfly charms and pendants with elaborate butterfly and floral designs. You can also create your own cluster of butterflies on a necklace with several charms and pendants in similar metals and designs.

Buy Pendants
Back to Guides Directory