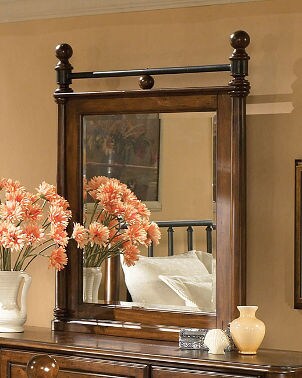 Add functional decor to your home when you buy mirrors to spruce up your bedroom. Whether you need a lighted makeup mirror to make your morning routine easier or a floor mirror so you can examine your outfit as you walk out the door, you're sure to find the decorative mirrors that work with your style and your space. Read on for tips on finding the best mirrors for your bedroom.
Best Bedroom Mirrors:

Buy a full-length mirror for convenience. Turning from side to side to check your appearance in a bathroom mirror can get annoying. Why not buy a full-length mirror you can hang in your bedroom? Over-the-door styles save wall space, but you can also buy a full-length mirror to mount in your walk-in closet or against one side of a traditional closet if you don't have much room. This wall mirror style is pretty simple, which makes it ideal for both contemporary and eclectic decor.

Include a makeup mirror in your bedroom. Even if you don't have a pretty vanity to sit at while you do your hair, you can still make your routine simpler with a lighted makeup mirror. Set a small, lighted oval mirror on your dresser so you can use it to apply lipstick quickly, or look for a tri-fold wall mirror you can mount above a small table to make your own vanity.

Find decorative mirrors to enlarge your space. Make your bedroom appear larger when you hang decorative mirrors on empty walls. Frameless mirrors will give you a stark, modern feel, while antique mirrors with gilded edges can make your room old-fashioned and romantic. Choose an oversized mirror to provide extra light and a fresh feeling; contemporary mirrors with unique shapes, such as circles or even diamonds, can also be hung together to create a shimmering collage. You can also hang several frameless mirrors in opposite directions for an interesting visual effect.

Get creative with a floor mirror. An oval mirror made of mahogany gives your bedroom a vintage vibe, but you can prop contemporary mirrors with shimmery mosaic frames against any wall to create an open, airy feeling. To make the most of your floor mirror, place it near a window so that it reflects light through the rest of the room. Wooden antique mirrors with hand-carved edges would also be complemented by a cedar chest or vanity bench for getting ready in the mornings.

Buy Mirrors
Back to Guides Directory